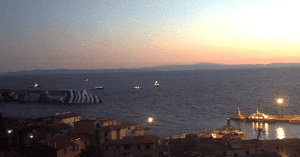 Below is the statement released from Carnival Corp., the parent company of Costa Cruises:
"On January 13, 2012, Costa Cruises' vessel, the Costa Concordia, departed from Civitavecchia, Italy with approximately 3,200 passengers and 1,000 crew members on a seven-day voyage. At approximately 10:00pm CET, the vessel struck rock off the coast of Isola del Giglio, Italy and sustained significant damage causing the ship to list severely.  The order was given to abandon ship and deploy the lifeboats.
Tragically, there are reports of some deaths and injuries.  This is a terrible tragedy and we are deeply saddened. Carnival Corporation & plc offers our sympathies and heartfelt condolences to all of the Costa Concordia guests, crew members and their families.  Carnival Corporation & plc and Costa Cruises are committing our full resources to provide assistance and ensure that all guests and crew are looked after.
We want to express our deep gratitude to the Italian Coast Guard and local authorities and community members who have gone to extraordinary lengths to assist in the evacuation of the ship and provide support for our guests and crew.
We are working to fully understand the cause of what occurred. The safety of our guests and crew members remains the number one priority of Carnival Corporation & plc and all of our cruise lines.
Costa Concordia was sailing on a Mediterranean cruise from Civitavecchia (Rome) with scheduled calls at Savona, Italy; Marseille, France; Barcelona, Spain; Palma de Mallorca; Cagliari and Palermo, Italy.
 Friends and family members may use the following country-specific contact numbers to reach Costa Cruises: Italy:  848505050: U.S.:  800-462-6782; Austria:  00438109006565; Germany:  +4940570121314; France:  +33155475554; Spain:  +34934875685; Portugal:  +34914185951; and the UK:  08453510552."
Costa Cruises released the following statement on Saturday afternoon:
HOLLYWOOD, Fla. (Jan. 14, 2012, 12:30 p.m. EST) — This is the latest statement issued regarding Costa Concordia by Costa Crociere's Corporate Communications Department. According to Costa, this is the last statement that will be issued today, though updates will follow.
"I want to express our deep sorrow for this terrible tragedy," said Gianni Onorato, President of Costa Crociere. "I am only now able to speak on behalf of Costa because, as you will understand, I have been at Isola del Giglio to be close to the rescue operations.
 "First, I would like to thank all the authorities, law enforcement and volunteers who provided assistance to our guests and crew involved in this terrible event.
 "We are not at this time able to answer all questions because the authorities are trying, with our cooperation, to understand the reasons for this incident.
 "On the basis of the initial evidence — still preliminary — Costa Concordia, under the command of Master Francesco Schettino, was sailing its regularly scheduled itinerary from Civitavecchia to Savona, Italy, when the ship struck a submerged rock.
 "Captain Schettino, who was on the bridge at the time, immediately understood the severity of the situation and performed a maneuver intended to protect both guests and crew, and initiated security procedures to prepare for an eventual ship evacuation.
 "Unfortunately, that operation was complicated by a sudden tilting of the ship that made disembarkation difficult.
 "Thanks to the commitment of the agencies coordinated by the Coast Guard, rescue operations have been continuing.
 "From the moment we were alerted, Costa mobilized all its resources ashore to assist our guests and crewmembers, and to prevent potential environmental impacts."
 For information, friends and families members can contact the U.S. call center at 800-462-6782.
Sign-up for our Daily Updates here.
Source: Carnival/Costa Cruises