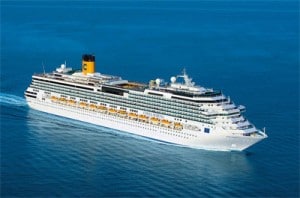 HOLLYWOOD, Fla. (Dec. 22, 2011) — This year approximately 70,000 guests will take a Costa Cruises Christmas or New Year's cruise on 14 of the line's Italian-flagged ships deployed in the Mediterranean, Canary Islands, United Arab Emirates, Far East, Caribbean, South America, Indian Ocean and Red Sea.
In addition to a host of planned special events, Costa's ships will be dressed with Christmas trees and festive decorations. Santa Claus also will visit Costa's floating resorts, bringing presents for the youngest cruisers. Two exclusive menus will be offered for Christmas and New Year's Eve dinners, specially created by Michelin-star chef Carlo Cracco and Benedetta Parodi, one of Italy's most popular television chefs.
This year's seasonal offerings include more itineraries than ever before — for Christmas and New Year's Eve, Costa Cruises will deploy 14 ships with 26 sailings on more than 20 itineraries.
The range of options includes six-, nine-, 10- and 11-day cruises in the Mediterranean Sea and the Canary Islands on Costa Deliziosa, Costa Serena and Costa Concordia; seven-day cruises to the United Arab Emirates and Oman on Costa Favolosa; seven-day cruises to the Red Sea on Costa Voyager; seven- and 10-day Caribbean cruises on Costa Luminosa, Costa Atlantica and Costa Mediterranea; seven-, eight- and nine-day sailings in South America on Costa Pacifica, Costa Magica, Costa Fortuna and Costa Victoria; a 14-day cruise to the Far East on Costa Classica, and 14 days in the Indian Ocean on Costa Allegra.
Source: Costa Cruises