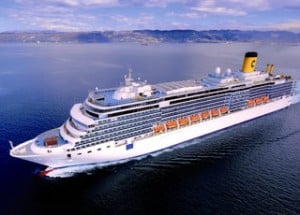 Italian cruise line Costa Cruises announced today that they'll put their 3,800-passenger flagship Costa Favolosa in the middle east. First initiated in 2006, Costa Cruises will sail the 2011-12 season with 58 sailings and expected to move 233,000-passengers.
A release issued by Costa said, "From Dec. 16, 2011, through April 6, 2012, Costa Favolosa will sail the exotic seas of the Arabian Gulf on the "Jewels of the Emirates itinerary. The seven-night cruises start with two days at Dubai, one-day calls at Muscat, Oman; Fujairah and Abu Dhabi, U.A.E., and Khasab, Oman, and end with an overnight stay at Dubai."
Costa Favolosa is the largest ship flying the Italian flag.
Source: Costa Cruises