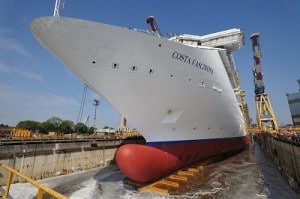 The 114,500-ton, 3,800-guest cruise ship was built at Fincantieri's Marghera yard. Costa Fascinosa has successfully completed sea trials, passing a series of running tests on its systems, machinery and engines, and will be officially handed over to Costa Cruises by Fincantieri a day before the scheduled preview cruise.
On May 6 Costa Fascinosa is scheduled to depart Venice bound for Slovenia; Trieste, Italy, and Croatia on a cruise hosting the 19th edition of "Champions of the Sea," an annual event honoring Costa Cruises' travel agent partners.
Costa Fascinosa then departs Venice May 11 on a 10-day inaugural cruise calling at Greece, Israel and Turkey. For the rest of the 2012 summer season through November, Costa Fascinosa will operate seven-day cruises from Venice and Bari, Italy, to Greece and Croatia.
Costa Cruises' total investment in Costa Fascinosa was 510 million euros (US$671.2 million). Construction of the ship at Fincantieri's Marghera shipyard involved the labor of approximately 3,000 yard workers plus another 7,000 people employed by about 500 contracted suppliers, most of them Italian firms.
Since 1990 Costa Cruises has invested 5.8 billion euros (US$7.6 billion) in work at the Fincantieri, T. Mariotti and San Giorgio del Porto shipyards, with a total of 14 ships built or on order, in addition to the refurbishment of ships already in service.
Delivery of Costa Fascinosa takes places just two months after delivery of Costa neoRomantica, the result of the 90 million euro (US$118.4 million) major refurbishment of Costa Romantica at the San Giorgio del Porto shipyard in Genoa.
Costa Cruises' fleet expansion program continues at Fincantieri's Marghera yard with construction of a 132,500-ton vessel that will accommodate up to 4,928 guests, making it the largest Italian cruise ship. The as-yet unnamed ship is scheduled for delivery in October 2014.
Source: Costa Cruises
Subscribe to our Cruise News Updates.