Costa Cruises recently announced that they'll be resuming service to Japan. On August 26th, 2011 Costa Classica will be leaving Shanghai for a 4-day cruise calling at Fukuoka (Japan),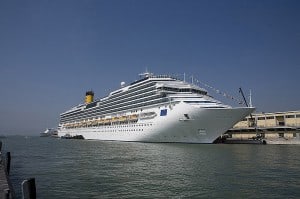 Cheju (South Korea) before returning to Shanghai.
A release issued from the lines headquarters in Genoa, Italy said, "This decision demonstrates Costa's confidence in Japan's tourism market and its support to the revitalization of the local tourism industry. Costa Classica cruises to Japan are very much appreciated especially by Costa Chinese Guests. As the first international cruise company to enter the Chinese market, Costa Cruises has been operating cruise itineraries from China to Japan for more than five years."
This comes after the line pulled out of Japan in wake of the earthquake that triggered destructive tsunami waves earlier this spring.
On the heal of the Japan announcement the line also announced Egypt and Tunis will be removed from their 2012 itineraries.
When asked why they were pulling out of Egypt, they said "Our choices about itineraries are driven by our clients and their preferences. We noticed that there is still a persisting negative perception of Egypt and Tunisia, as a consequence of the recent difficult political and economical situation. We decided to substitute also 2012 calls to allow our Clients to maintain the tranquility and serenity that must characterize the holiday. At the same time we also noticed that some destinations, like Israel, Black Sea and Portugal are increasing their appeal, with a consequent increase of the demand coming from our clients."