Costa Cruises has debuted a new cooking experience that will allow guests an insider peek at tips and tricks with onboard executive chefs.  "Bravo Chef: The Show" will feature onboard chefs preparing Italian regional recipes and international dishes.  It has debuted aboard Costa Pacifica, and will be rolling out to seven more ships in the line's fleet.
A "show kitchen" set is created on the main theater stage, with cameras projecting the cooking onto large screens.  Costa chefs will demonstrate how to make various dishes, preparing them step by step so guests can learn and remember for their own culinary endeavors.
Each day, Costa ships serve 520 dishes from 18 regions of Italy.  With the new cooking show, travelers will learn how to prepare some of them at how.  Some dishes will include spaghetti with anchovies and breadcrumbs from Sicily, veal saltimbocca alla romana from Rome, the traditional Basque dish bacalao pilpil, and French bouillabaisse – just a few that are presented during the show.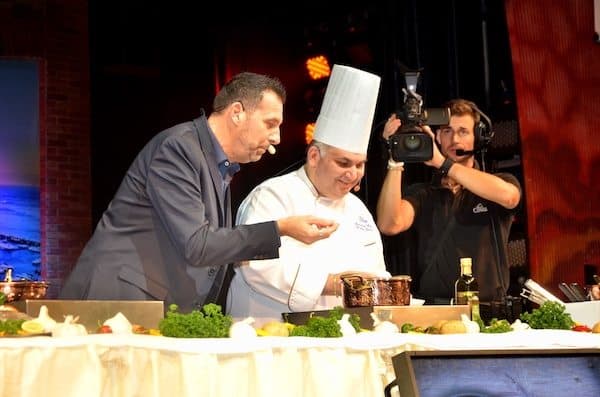 "Bravo Chef: The Show" also provides useful dinner tips, like the correct selection and positioning of dishes and cutlery, and the sommelier will suggest complimentary wines to go with each recipe.  Each show will also end with a contest for guests in attendance, who will be invited to answer a question related to the recipe.  The first guest to answer correctly via remote-control button will win dinner for two at the Club Restaurant.
In addition to the demos, Costa is featuring a "Bravo Chef: The Battle" version.  Guests compete in a real-time cooking challenge to earn the title of "Bravo Chef for a Day."  Contestants will prepare a dish using surprise ingredients from special mystery boxes for a jury composted of the food and beverage director, the maitre d', and a guest.  The cruise director will host the competition on the open deck poolside, and the winner will receive dinner for two at the Club Restaurant or at Burger d'Autore, which serves gourmet Italian burgers.
The cooking shows premiered on Costa Pacifica last month, and will be rolling out on Costa Diadema, Deliziosa, Fascinosa, Favolosa, Luminosa, Magica, and Mediterranea.