Costa Cruises has announced they're enhancing their "Jewels of the Emirates" itinerary out of Dubai from December 16, 2016 through March 17, 2017.  The cruise line is adding a stopover at the island oasis Sir Bani Yas Island, located off the coast in the western region of Abu Dhabi Emirate.
Costa's guests will have a whole day to relax and play on the island, which features a wildlife sanctuary for over 13,000 animals, safari parks, white sand beaches, and sea turtles and dolphins near the coast.
The white sandy beach will provide guests full amenities and VIP areas featuring cabanas.  Families will also enjoy inflatable slides, the shallow water, and activities such as kayaking, snorkeling, and more.  Costa's own staff will also manage multiple bars and buffets, so there's something to suite everyone's fancy.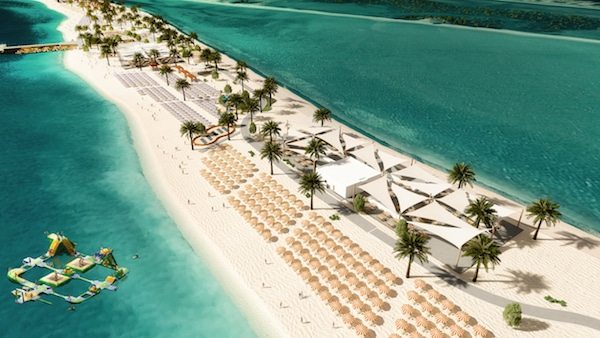 READ MORE: MSC Launches New Island Destination
This island paradise adds a special touch to the 7-day "Jewels of the Emirates" itinerary, which is perfect for a winter getaway.  In addition to Sir Bani Yas Island, Costa NeoRiviera will take her guests on a voyage to Dubai (the homeport), Muscat, and Abu Dhabi – all with longer stopovers.
Costa Cruises has a variety of shore excursions for each port.  For example in Muscat, guests can take a four-wheel drive adventure to explore Wadi Al Arbeieen canyon, and then visit a local village.  In Abu Dhabi, attractions include the Sheikh Zayed Grand Mosque – the largest in the UAE, a desert safari by jeep and camel, and the Ferrari World theme park.  In Dubai, guests can take a helicopter scenic tour of the city, ride in a seaplane, swim with dolphins, or tour one of the city's most iconic skyscrapers – the Burj Al Arab.