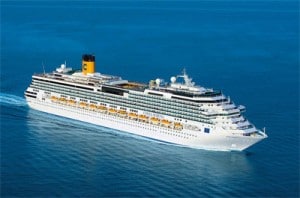 HOLLYWOOD, Fla. (Dec. 15, 2011) — Costa Cruises opened its sixth consecutive season in the United Arab Emirates with the inaugural call of the flagship Costa Favolosa at Dubai today.
Participants in a welcoming ceremony to celebrate the flagship's first call included Awah Al Ketbi, chief executive officer of AL Ketbi Consultancy, the company that is Costa's representative office in Dubai; Costa Favolosa's master, Captain Mauro Muratore, and government officials and VIP guests from the Dubai Department of Tourism and Commerce Marketing, and tourism and maritime sectors.
Costa Favolosa will make 58 port calls in the U.A.E. in winter 2011-12, accounting for approximately 233,000 passenger movements.
The 114,500-ton, 3,800-guest Costa Favolosa is the largest, most advanced ship ever deployed in the Emirates. Costa was the first cruise line to offer the U.A.E. as a cruise destination in 2006.
During the winter 2011-12 season, from Dec. 16, 2011, to April 6, 2012, Costa Favolosa will sail the exotic seas of the Arabian Gulf on seven-night cruises with two days in Dubai, one-day stopovers at Muscat, Oman; Fujairah and Abu Dhabi, U.A.E., and new port of call Khasab, Oman, ending with an additional overnight stay at Dubai. The Jewels of the Emirates itinerary is reminiscent of "A Thousand and One Nights," and offers a tantalizing mix of past and future, with stunning futuristic architecture, adventurous dune surfing, ornate mosques and imposing skycrapers.
For more than 60 years Costa Cruises' ships have sailed worldwide, offering the best in Italian style, hospitality and cuisine, while providing holidays focused on fun and relaxation. The line's 15 ships visit 250 destinations throughout the Mediterranean, northern Europe, the Baltic, Caribbean, South America, United Arab Emirates, Far East and Indian Ocean. Costa Fascinosa will be delivered in 2012 and another new ship is on order from Fincantieri for delivery in 2014.
For more information on Costa Cruises, contact a travel professional.
Source: Costa