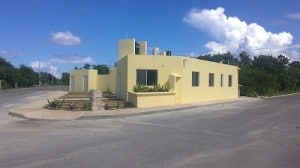 The Western Caribbean cruise port of Costa Maya now has a medical clinic for cruise ships. The recently built Costa Maya Medical Clinic is a joint venture between Costamed Group and AirEvac International, located adjacent to the cruise port. The clinic offers services around-the-clock to cruise ship passengers, crew and the local population.
The clinic is able to treat most illnesses, do blood work and is set up for air evacuation if needed.
"They are all qualified doctors and nurses, certified to practice in Mexico," said Carlos Ayala, spokesman for AirEvac International.
In case there is a need to evacuate a patient from the clinic to a higher level of care hospital in Mexico or in the United States, the staff of Costa Maya Medical Clinic has direct access to an Air Ambulance Lear Jet Series 25 based in Cancun. The aircraft is equipped as an Airborne Intensive Care Unit (ICU) and it is operated exclusively by AirEvac International.
Located on the Yucatan, Costa Maya, Mexico is a man-made cruise port that first started accepting cruise ship passengers in 2001, damaged by Hurricane Dean in 07, it has since rebuilt and able to accommodate up to three cruise ships per day.
Subscribe to our Cruise News Updates.