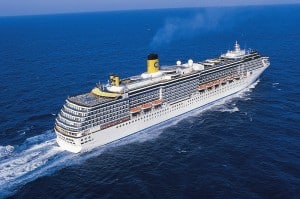 Costa Cruises will offer the first-ever round-trip world cruise from China in 2014. Departing Shanghai March 22, Costa Atlantica will sail an 83-day journey that spans five continents and three oceans, and calls at 23 destinations in 16 countries.
The 2,680-guest, 85,700-ton Costa Atlantica will first stop at Vietnam, then take a westerly course to Thailand, Sri Lanka and the Maldives in the Indian Ocean before journeying north to Egypt and Europe for calls at Italy, France, Spain and Portugal. Costa Atlantica will then sail a trans-Atlantic crossing to New York before heading south to Miami, Fla., and Central America, transiting the Panama Canal to enter the Pacific Ocean and continue on to the Hawaiian Islands and Guam, Marianas Islands. Eighty-three days after its departure, Costa Atlantica will return to Shanghai Wusongkou International Cruise Terminal June 13, 2014.
With the arrival of Costa Atlantica May 3 at Singapore, Costa Cruises now has two cruise ships deployed in Asia. The line has operated the 2,394-guest Costa Victoria year-round from Shanghai since May 2012. With the addition of the 2,680-guest Costa Atlantica, Costa has a combined total guest capacity of 5,074 — a 67 percent increase — serving the Asia region.
From May to June Costa Atlantica will sail three- and four-night cruises to Thailand and Malaysia from Singapore. In June, the ship will homeport at Keelung, Taiwan, for two special five-night cruises to Japan and South Korea. From July until year's end, Costa Atlantica will sail from Shanghai on four- and five-night cruises to Fukuoka, Cheju, Kagoshima and Kobe, Japan, and Pusan and Incheon, South Korea.
Source: Costa
Subscribe to our Cruise Updates.
Related articles