The Veragua Rainforest Eco-Adventure has gone green in an effort to conserve energy and the beautiful rainforest that surrounds it.  They've installed a $160,000 solar power system that has been supplying almost all of the private nature preserve's electricity since March.
Located in the central mountains less than an hour from Costa Rica's Caribbean coast, Veragua is two miles from the nearest public utility electrical access or main road.  Previously, the shore excursion destination had relied on a diesel generator for utilities, the treetop gondola ride, animal habitat displays, and research facility.  But the generator wasn't cost effective, and it definitely wasn't eco-friendly.  That was at odds with the preserve's mission – to provide visitors with a unique, sustainable rainforest experience with minimal ecological impact – so something had to change.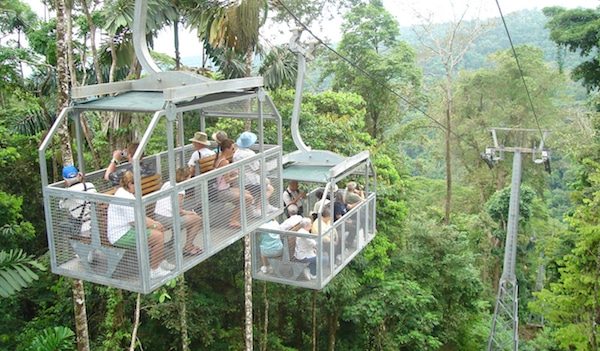 READ MORE: Caribbean Shore Excursion Questions Answered
Martí Jimenez, owner of Veragua Rainforest Eco-Adventure said "Diesel was contaminating, with emissions equivalent to the exhaust of 60 gas-powered cars every month, and it was risky for business operations if the generator brown down – but it was our only option at the time.  Our solar energy project is a huge milestone because we finally have a consistent, renewable source of energy."
The solar micro-network functions like a mini version of Costa Rica's electrical grid, powering lights, air-conditioning, kitchen equipment, and the research lab.  It's installed on the roofs of three buildings, with 176 photovoltaic panels total.  The system's battery bank stores energy to mitigate the effect of cloudy and rainy days, and if solar energy ever runs low, the diesel generator is still there for backup.
If you're ever on a cruise to Costa Rica, consider checking out what National Geographic has called "The Cream of the Cream of the Rainforest" – Veragua Rainforest Eco-Adventure.
photos: Veragua Rainforest Eco-Adventure