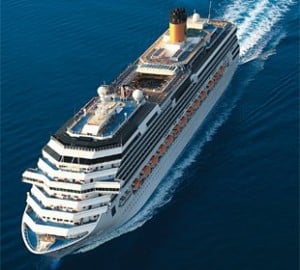 The Sustainable Cruise waste-management project co-funded by the European Commission through the LIFE+ Program, the European Union's funding instrument for environmental projects, is under way aboard the 114,500-ton Costa Pacifica.
With the 3,780-guest Costa Pacifica serving as the first pilot, this project will focus on reducing three main categories of waste:
Cardboard boxes, glass bottles, plastic bottles and containers to reduce that type of waste at the origin, with the cooperation of product suppliers.
Wet waste food and organic waste account for 22 percent of total shipboard waste. The state-of-the-art technology used by the Sustainable Cruise project instead processes the pulp produced from food waste into compost, a useful by product.
Paper Waste accounts for 16 percent of shipboard waste aboard Costa Pacifica. Work is now focusing on devising processes that can be applied to reduce paper at the source, reuse it or dispose of it sustainably.
"We are very proud to be managing this highly innovative project on board Costa Pacifica, which will be the pilot ship for new models of management of certain types of solid waste," said Ernesto Gori, Costa Cruises vice president, quality standards compliance and auditing.
More details of the European Sustainable Cruise project and regular updates regarding the results of the work are posted at www.sustainablecruise.eu.
Souce: Costa
Subscribe to our Cruise News Updates.
Related articles