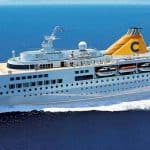 This morning at 7 a.m. (CET), as Costa Voyager was en route to Durazzo, Albania, for its maiden call at that port city, a boat adrift without power and in obvious distress was spotted from the bridge about 15 miles off the coast.
Costa Voyager's crew rescued two young men in poor condition from the boat. The ship informed the Albanian Coast Guard, which confirmed the men, who had gone to sea to fish, had been missing for two days and the coast guard had mounted a search for them.
Costa Voyager reached Durazzo two hours later and the rescued men were disembarked safely.
Costa Voyager was sailing a 10-day French charter cruise that departed from Marseille, France, Friday. Durazzo was the first call on the itinerary.
The Costa ship carries 927-guests and 24,000-tons.
Source: Costa Cruises
Subscribe to our Cruise Updates.