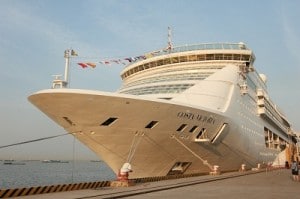 Costa Cruises held a launch ceremony yesterday for Costa Victoria at Shanghai Wusongkou International Cruise Terminal.
Costa Victoria will have a unique on-board designer boutique concept, selling top brands at duty-free prices, featuring a large array of high-end fashion stores plus a fashion show modeling on-board wares.
With the support and encouragement from the Chinese government, Costa Cruises has been sailing from Shanghai since 2006. By the end of 2012 Costa will have operated more than 300 cruises and carried more than 300,000 Chinese guests since 2006.
The first voyage is a five-night itinerary that departs from Shanghai to Jeju, calling at Fukuoka, Japan, and Hososhima/Miyazaki before returning to Shanghai.
Source: Costa
Subscribe to our Cruise News Updates.