Carnival Cruise Line has announced their lineup for Carnival LIVE this coming fall, and it's going to include country music star Sam Hunt, and comedians Chris Tucker and Jim Gaffigan.
Carnival LIVE is an entertainment experience that allows guests to enjoy performances by some of today's top stars right in the ships' main theaters, giving them a more intimate experience.  The artists will board the ship while it's in port to do their shows, and this year, they will be in Cozumel, Nassau, Grand Cayman, and Montego Bay.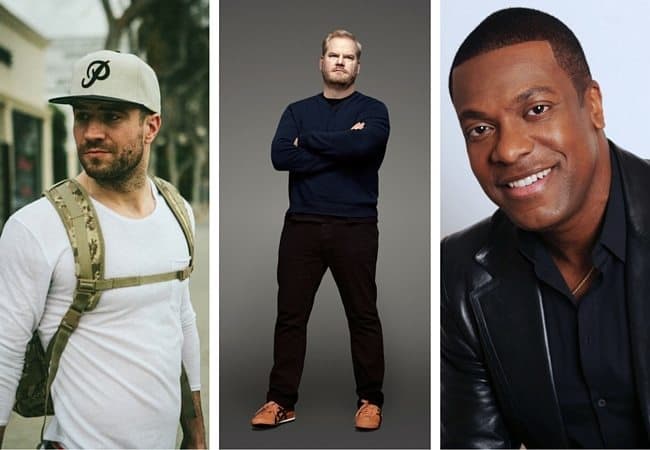 Known for his out-of-the-box artistry, Sam Hunt will perform two shows while Carnival Fantasy and Splendor are docked in Cozumel on October 19 and 20.  He was recently nominated for a Grammy and has received an American Music Award, a CMT Award, and an Academy of Country Music Award.  All of the singles from his debut album charted in the Billboard Hot 100 – the first country artist ever to do so.
Jim Gaffigan will perform aboard Carnival Valor September 6 and Fantasy September 7 while the ships are in Nassau, Bahamas.  Gaffigan is a Grammy award-winner, best-selling author, and multi-platinum-selling father of five.  He recently wrapped the first season of The Jim Gaffigan Show, which revolves around a man's struggle to balance comedy, fatherhood, and a huge appetite.
Chris Tucker is known for his role in the Rush Hour movies, and he'll keep guests rolling with his hilarious outlook on life.  He will be doing a show aboard Carnival Freedom on October 25 in Grand Cayman, and another aboard Dream on the 26th in Montego Bay.  Tucker was a regular on the Def Comedy Jam series before breaking into movies, while continuing his stand-up comedy career.  Most recently, he was in a self-titled comedy show; Chris Tucker – Live, on Netflix.
Carnival LIVE tickets for Chris Tucker, Sam Hunt, and Jim Gaffigan range from $30 – $75 for general admission.  VIP tickets are available for $100 – $250 and offer seating in the first five rows, a photo op, and a commemorative concert pass.
Talk with your travel agent or visit Carnival's website for a full listing of the 2016 Carnival LIVE concert series.