Guests aboard the upcoming Holland America ship ms Koningsdam will have a chance to try their hand at the art of winemaking.  The new venue, called BLEND, is in collaboration with Chateau Ste. Michelle, Washington's oldest and most acclaimed winery, where guests will be able to create their own blends of wine and enjoy them during dinner or in their cabin.
BLEND will be the first purpose-built wine blending venue at sea.  It will feature a tasting table that accommodates ten guests at a time who can create their own blend of wine from a selection of five red wines.  In addition to the blending process, guests will also learn about wine from the ship's wine expert, who will lead the blending sessions.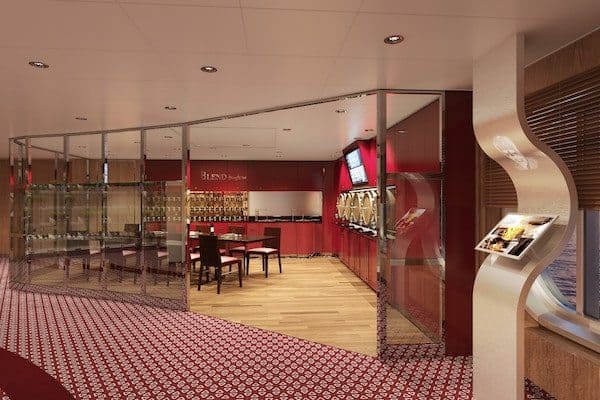 Guests will watch a welcome video from Chateau Ste. Michelle's head winemaker, Bob Bertheau, and then learn information about the history of wine in Washington state and winemaking, and see how different vineyard sites impact the flavors and styles of wine.  The Cellar Master will also teach guests to identify what flavors, characteristics, and nuances to look for in the wine from each barrel.
Guests then sample the five wines, including Cabernet Sauvignon, Cabernet Franc, and Merlot, and make tasting notes on what they like in each.  The blending then begins, where guests can determine how much of each wine to include in their bottle.  After the wine is bottled and corked, guests can create their own personalized label.  It is then sent to the dining room or one of the onboard restaurants to be enjoyed during dinner, or guests can bring it to their stateroom.
Wine blending sessions will be held daily for a fee, and will require reservations.