It is with heavy hearts that we report that one of the four Norwegian Breakaway crew members who were injured earlier today when a lifeboat drill led to a tragic accident has passed away. Three others who were taken to the hospital at the same time are being treated for their injuries.
What Happened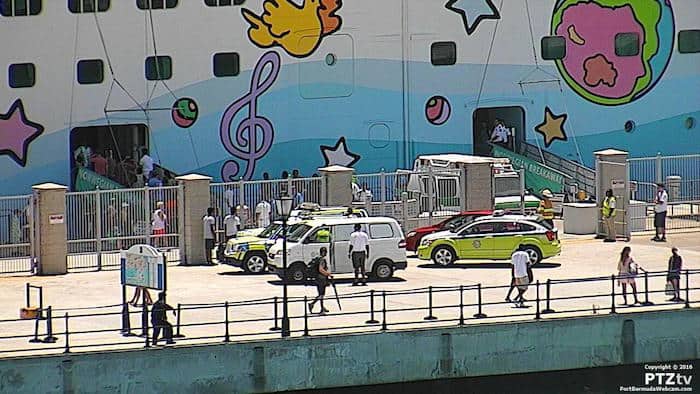 A statement from the cruise line reads that while the ship was docked in Bermuda, "an incident occurred involving the ship's rescue boat during a routine drill, affecting four crew members. The ship's medical team provided immediate care on-board the vessel and the crew members were transported to the hospital for further treatment. The company is providing full support and care to the crew members involved and is working closely with the relevant authorities to investigate the incident"
A Bermuda Maritime Operations spokesperson told the Royal Gazette that the lifeboat was left hanging from one wire, causing the crewmembers who'd been aboard to fall out into the water.
The Breakaway, which had sailed out of New York earlier this week on a normal 7-day run to Bermuda, arrived there earlier this morning. Despite the tragedy, it is expected that it will depart Bermuda tomorrow as originally scheduled.
Our Thoughts & Prayers
The Royal Gazette reports that the deceased crewmember, whose name was being withheld pending notification of next of kin, was a 41-year-old Filipino man. It is during times like this that one gets a true sense of just how close the cruising community is. While the vast majority of people who have sailed the ship will likely never have known the crewmember's name, we all feel the loss. Because the people who work aboard these ships – both those we interact with and those who function behind the scenes – are ones whom we appreciate for all they do.
Look at any site or message board reporting on this tragedy, and you will see countless people expressing their sorrow at the loss of someone who was part of making vacation dreams come true for so many others. We join them in extending our thoughts and prayers to the families he left behind, both those to whom he was related by blood and those with whom he worked aboard the Breakaway.