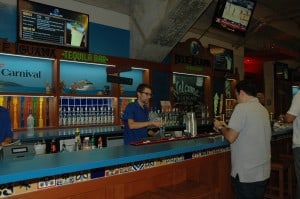 This week we are sailing about Carnival Sunshine, doing a 16-night transatlantic cruise from Barcelona to New Orleans, right now we are in Palma De Mallorca, Spain. You can track our photos and experiences on our Facebook Page (facebook.com/CruiseRadio).
Here's this week's cruise news clippings:
The American Airlines Arena in Miami, Florida just got a little more hopping as Carnival Cruise Lines added three-new Caribbean-themed bars to the Miami Heat venue. Patrons will now find the RedFrog Bar, RedFrog Rum Bar and Blue Iguana Tequila Bar. All three bars have a variety of bottled, draft beers and Carnival's private label draft beer ThirstyFrog Red.
Princess Cruises' newest ship Royal Princess received a grand welcome in Fort Lauderdale, Florida on Sunday morning. The ship will spend the winter in the Caribbean offering seven-night Caribbean service out of Port Everglades. Special guest Gavin MacLeod (aka Captain Stubing from the Love Boat) was on the first sailing from its new port, launching his new book "This is Your Captain Speaking, My Fantastic Voyage through Hollywood, Faith and Life."
You can check out Gavin MacLeod's new book here.
Norwegian Cruise Line and the New York Knicks announced this week a new marketing partnership naming Norwegian the "Official Cruise Line" of the team. Norwegian will be featured on digital platforms and in-arena during the Knicks home games at the completely transformed Madison Square Garden.
The crew of the Coast Guard Cutter Smilax worked with personnel from the North Carolina Department of Cultural Resources to recover five cannons and multiple barrel hoops from the Queen Anne's Revenge in Beaufort Inlet, N.C., Monday. The Queen Anne's Revenge was the ship of the pirate Edward Teach, better known as Blackbeard, for more than a year before the ship ran aground on the shoals in the inlet.
This week on Cruise Radio we taped aboard Royal Princess. Stewart Chiron the Cruise Guy stops by and shared his thoughts of the new vessel and Gavin MacLeod stopped by the broadcast booth to chat about his new book and life after The Love Boat. You can listen to the episode here.
Holland America Line's ms Noordam will now sail cruises with central and western Mediterranean itineraries in spring and summer 2014. The new itineraries will allow for longer voyages, including the introduction of three new 11-day itineraries with several departures each and numerous Collectors' Voyages up to 33 days. From April through October 2014, the ship will sail between Civitavecchia (Rome), Italy, and Barcelona, Spain, or Venice, Italy. The 11-day itineraries feature a combination of calls in Spain, France, Italy, Malta, Monaco, Tunisia, Greece, Croatia, Montenegro and Turkey.
There's an extra dose of magic aboard the Disney Magic, which re-launched after a dry dock on Oct. 25 with new spaces, re-imagined areas and exciting additions for the whole family. From a three-story water thrill slide to a lively Brazilian-inspired family restaurant and a spa to stimulate the "Senses," there are plenty of new and magical surprises in store for guests. The ship also features fun new experiences in Marvel's Avengers Academy – the first time Super Hero icons from the Marvel Universe have been introduced on a Disney Cruise Line ship.
Last weekend on the Weekend Travel Show we broadcast from Quebec City, Canada. We interviewed our tour guide Michelle on things to do in the city, Nancy Schretter from the Family Travel Network dropped by to talk about things for families to do and Jason Coleman returns to answer more of your listener questions. Hear the broadcast here.
You can also subscribe to it on iTunes, just type in Weekend Travel Show.
That's all folks…
Related articles