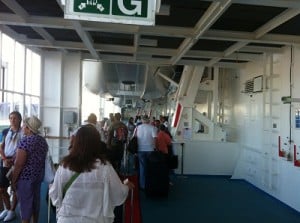 Today is the day we disembark Norwegian Sky in Miami. I was happy to get off the ship, which has maybe happened one other time in the five dozen cruises I've taken.
I will say that I was very impressed with the disembarkation procedure and process. I chose to do self-assist disembarkation where you get no assistance with your luggage but you're also allowed to be the first off the ship. I made my way down to deck six around 7:50 and found there to be only a little line to get off the ship. It was under 10-minutes so no complaints. Customs was a breeze, they had five lanes open and people were breezing through.
My next thought was going to figure out how I get to the airport to pick up my rental car. I walked out of the terminal and there was a shuttle for Thrifty rental cars that gave free transfers to the airport rental car station. Piece of cake.
Overall the cruise was good. I met some friends for life on this sailing and learned what I appreciate about other cruise lines. Though I could find things wrong with the ship, it's really not fair to judge a ship that's so outdated. Though Norwegian Sky is only 13 years old, she is worn like a ship that's 23 years old.
If you're looking for a party cruise, a cruise that's non-regimented with lots of entertainment or a quick and cheap sailing out of Miami, Norwegian Sky is your boat. If you're more service focused, foods is a primary factor in your sailing and want a toned down vacation, you may want to consider another cruise line. It's not for everyone.