Today I embarked on a four-night cruise aboard Norwegian Cruise Line's Norwegian Sky, a ship that's based year-round in Miami offering three and four night sailings. This sailing is going to take me to Freeport, Bahamas; their private Great Stirrup Cay, and Nassau, Bahamas. The weather was nasty all day, really bad. Just see the picture below.
I arrived at the ship around one for embarkation, dropped my bags at the pier and went to check-in. The check-in process was flawless, I gave them my passport, health form, credit card and boarded the ship 10-minutes later. I always like the board the ship after one pm because most of the people are already on the ship and the lines aren't too long. I was really impressed on how quickly they did the lifeboat drill, it was 15-minutes and then we were underway. We didn't have to bring our life jackets to the drill either, so glad cruise lines are getting away from that. At 5 pm the weather was so bad that the sailaway party was held inside.
My room is deck nine ocean view and not too shabby. There was one plug, adequate space to hang my clothes and a soap dispenser next to the bathroom sink which I like. After exploring the ship I noticed it's laid out very funky, almost to the point where you wonder who in the heck designed this thing. There's one part of the ship on deck five where it dead ends where you feel like you're trapped like a rat.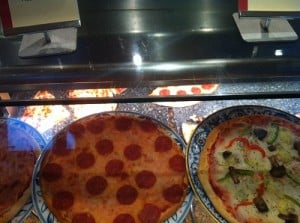 The Italian venue on the ship serves pizza during lunch and it was … ugh, okay I guess. If you ever have eaten cardboard with pizza sauce, it kind of tastes like that. They do have a gourmet pizza delivery though for $5, I am going to try that and see what it's like. I've heard fabulous things about their room service pizza.
At six pm there was a pub crawl and that was really fun. It's $25 and goes to five bars. It consists of four mixed drinks and a (gross) beer. There was about 75 people signed up for it and I met a group of people from central Florida and they were a riot. If that's what cruising like a Norwegian is like, I'm game!
Dinner was okay. It wasn't the best meal I've had on a cruise ship but wasn't awful. It felt like it was buffet food served on a plate but I'm still doing the Norwegian food challenge to see if it improves. I'm going to try a couple of the specialty restaurants to see it improves.
The comedian on the ship was pretty funny and not racy or vulgar, so I appreciate that. When a comedian has to drop F bombs or talk really dirty to make people laugh, there's a problem. After the comedy show I went to the night club for a few minutes and then called it a night. Freeport is on schedule for 8am and I like to watch the ships pull into port. Joining us in Freeport is going to be Carnival Fantasy from Charleston, SC.
Subscribe to our Cruise News Updates.