Cruise lines are shuffling their ships around due to the historic flooding conditions around Houston and Galveston. Royal Caribbean International confirmed via Twitter that the August 27 sailing on Liberty of the Seas is cancelled completely. Three of Carnival Cruise Line's ships – Carnival Valor, Carnival Freedom, and Carnival Breeze – remain offshore in the Gulf. The Port of Galveston has been closed since Friday night and will remain closed until further notice.
Ship statuses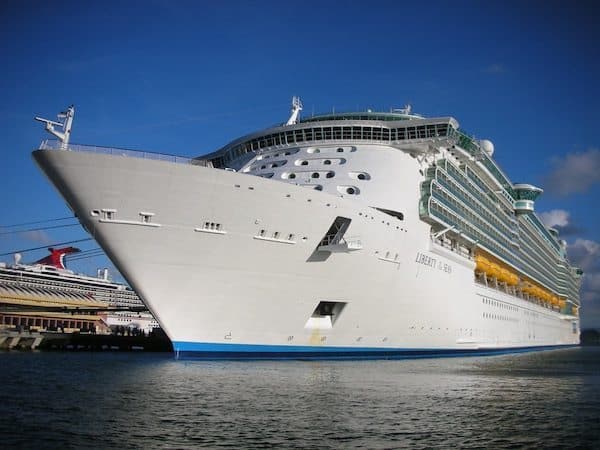 Liberty of the Seas will now sail to Miami, arriving there Tuesday before planning to return to Galveston on Friday. Guests who were booked for this week will receive a 100% refund as well as a 25% future cruise credit if they book within the next 30 days. Royal Caribbean did not comment on whether or not guests will be able to debark in Miami.
Carnival's last announcement said that the ships will continue to wait for the port to reopen. In the meantime, Carnival Breeze will stop in New Orleans on Monday to restock and refuel. Carnival Valor and Carnival Freedom already did this Saturday. John Heald, Carnival's senior cruise director and brand ambassador, posted on his Facebook page around 9:00 am Sunday: "On behalf of our president Christine Duffy and everybody at Carnival Cruise Line I want to wish you and your family all the best. I hope things get better quickly for you and that you all stay safe. We are thinking of you." So, it seems Carnival is continuing to try to wait this out. However, the seas are greater than 10 feet at the Port, and the Port continues to stress that it will remain closed until further notice.
Flooding shuts down Houston
On another note, the Port has confirmed from on-site authorities that none of the parking garages have flooded. However, the access roads to the cruise terminal are flooded. In addition, several portions of I-45, the main interstate that connects Galveston Island to the city of Houston, are closed due to flooding. Areas of Highway 6, another important route to the Island, are flooded as well.
All flights in and out of both of Houston's major airports – William P. Hobby Airport and George Bush Intercontinental Airport – have also been cancelled. Hobby Airport will remain closed until at least Wednesday at 8:00 am, and Bush Airport is to be closed until at least Monday at noon. Conditions can still easily change, as more rain is still on the way.
Harvey devastates Texas
Hurricane Harvey, which made landfall in Rockport, Texas, late Friday night as a Category 4 hurricane, has since been downgraded to a Tropical Storm. However, its effects continue to be devastating by historic proportions for Texans. The flooding that Houston is experiencing is absolutely catastrophic, and it has completely paralyzed the entire city.
While we wait to see what will happen to the current and future sailings of Carnival Valor, Carnival Freedom, and Carnival Breeze, please keep everyone affected by this hurricane in your thoughts and prayers. Even when our cruising friends make it back into Galveston, they will likely face significant hurdles in getting home from there. As frustrating as this situation is, the cruise lines and the Port of Galveston are only doing what they must while keeping safety at top of mind.
The first responders across Texas are doing a phenomenal job of responding to those in need. Again, please keep everyone in Texas in your thoughts and prayers over the next week as they continue to handle this devastation and, eventually, rebuild. Although so many have lost their homes, cars, possessions, and even lives, Texans remain resilient.