Food is often one of the biggest takeaways from a vacation, so it's important to know how your cruise ship's dining system operates before you sail – because no one likes surprises when it comes to food. Here's what to expect at dinner on 4 major cruise lines.
Carnival Cruise Line
Carnival's main dining rooms serve cruisers by either the traditional set dining times or by the flexible "Your Time Dining." The traditional dining option means that you have one of two dining times, either early dining (starting at 6 pm) or late dining (starting at 8:15 pm). Your dinner will start at this same time every night of the cruise, and you will have the same wait staff and tablemates throughout the voyage as well.
Carnival's "Your Time Dining" option offers more flexibility. Instead of having a scheduled dining time, you are registered to a certain dining room for Your Time Dining guests that takes reservations from 5:45 through 9:30. Carnival suggests on its website that parties of 8 or more do not choose the Your Time Dining option, as the tables in this dining room are mostly configured for parties of up to 6 guests. This flexible option is likely best, though, for busy families and guests who may like to be more spontaneous in their plans, such as catching an evening show.
Review: Carnival Cruise Line's Main Dining Room
Royal Caribbean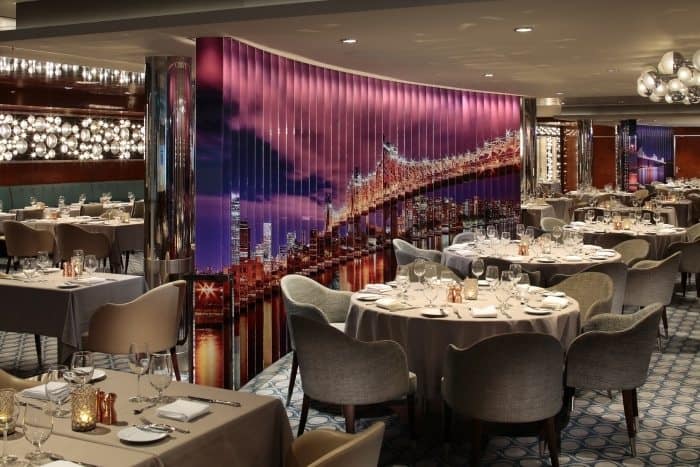 Royal Caribbean's dining system works the same as Carnival's, with its ships offering both the traditional early and late seatings as well as a "My Time Dining" option. One difference, however, is that Royal Caribbean encourages its My Time Dining cruisers to pre-book reservation days and times online before the cruise, although guests can do this once onboard as well.
One could guess this may be because Royal Caribbean advertises its specialty dining restaurants much more heavily than Carnival. And to be fair, Royal Caribbean simply offers more specialty restaurants than Carnival, so it only makes sense that the company tries harder to upsell these venues. Wanting guests to pre-book dining reservations online simply gives the ship's crew a better idea of how full or empty it can expect each restaurant to be on that particular voyage.
For Pinnacle Club members and mini suite guests (or higher) cruising on Royal Caribbean's Oasis-class and Quantum-class ships, there's also another complimentary restaurant called Coastal Kitchen. This restaurant is open for three meals a day and, while usually not required, prefers reservations.
Norwegian Cruise Line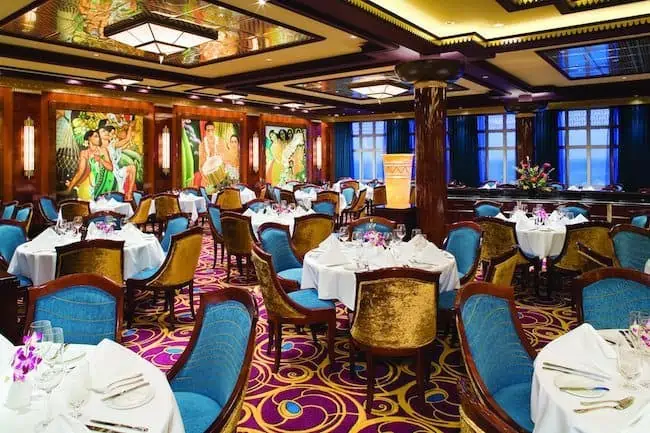 Norwegian changed dining in the cruise industry forever when it introduced freestyle dining. Cruisers now had the freedom to come and go in the main dining rooms as they pleased without being held to a set time every night, opening up their schedules to allow adjustments for the theater or comedy shows that may otherwise conflict. This revolutionary concept is what originally forced competing lines Carnival and Royal Caribbean to also offer a "flexible" dining time option for those who desire a more open dining schedule.
However, unlike its competitors, Norwegian does not also offer the traditional set dining times as well; all guests on Norwegian ships are enrolled in freestyle dining. This also means you will not have the same waiters every night, which is something many cruisers who are accustomed to the traditional dining experience may miss.
Norwegian's decision to be completely freestyle in its dining seems to work in its favor these days, however, the boom in specialty dining in the industry has also come with a decrease in those who frequent the main dining rooms. In this regard, Norwegian can continue to upsell its specialty restaurants and dining venues to cruisers, as cruisers likely feel more free to enjoy the specialty venues when they're not tied down to a set dining time already.
Disney Cruise Line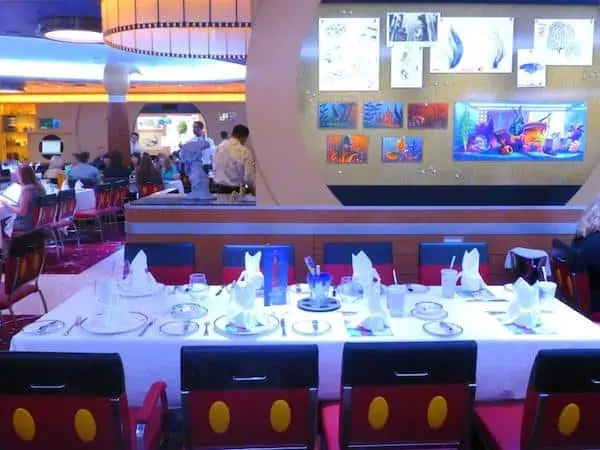 Disney does things a little differently with what is called "rotational dining." Unlike the other cruise lines, Disney does not offer a flexible dining time in its main dining rooms. Instead, only a traditional "main seating" and "second seating" are offered. However, you follow the "rotational dining" concept by dining in a different dining room each night, while keeping the same wait staff and tablemates during your cruise. Each dining room has its own cuisine, its own decor, and its own "character" (it is Disney, after all). For instance, the walls in the Animator's Palate dining room quite literally come alive when diners' illustrations become animated and displayed for all to enjoy.
Featured photo: NCL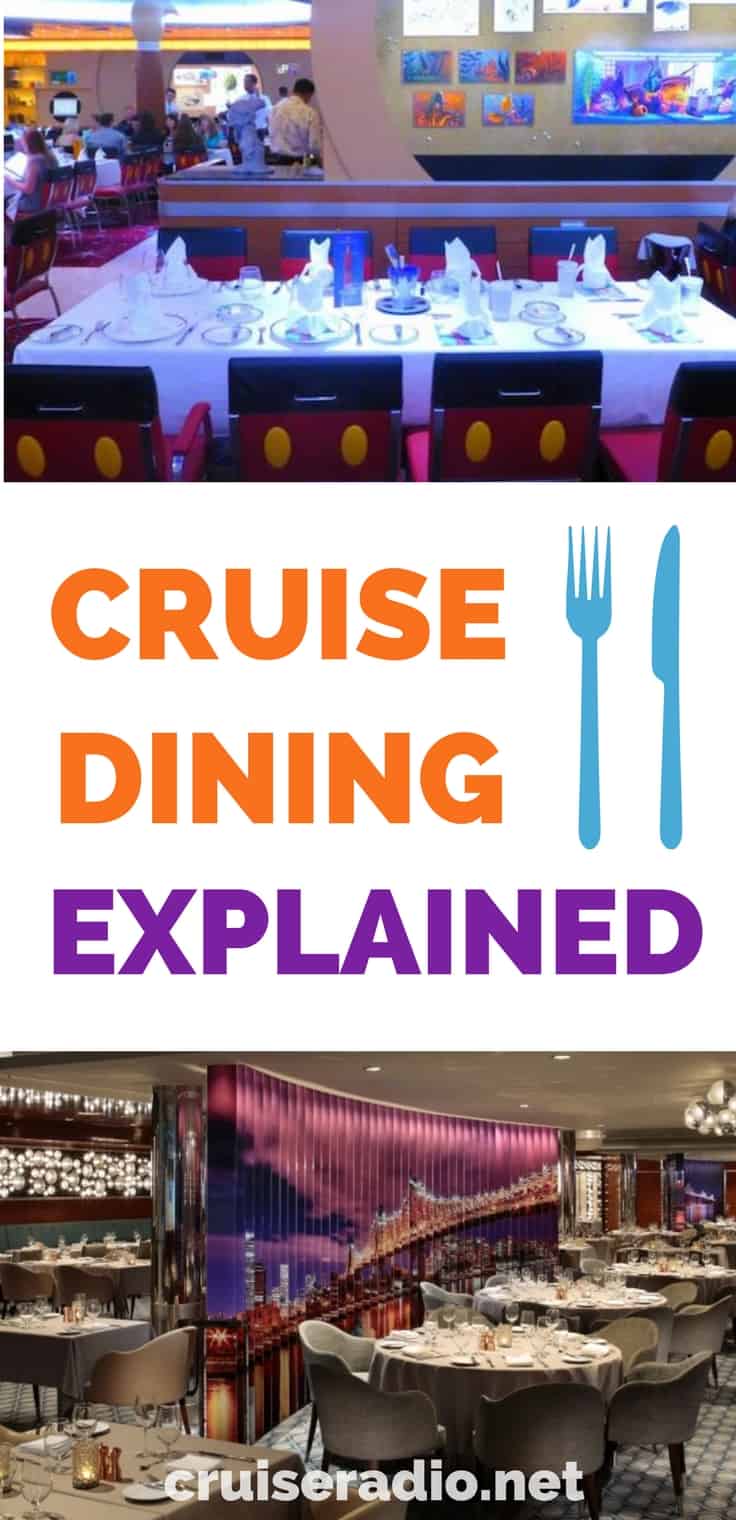 SaveSave