It's a basic fact of life that everything is better at sea. Now, Royal Caribbean is prepared to prove that with their 7-night Great American Eclipse cruise on board the Oasis of the Seas, sailing out of Orlando's Port Canaveral on August 20. "We're set to take vacationers on an unprecedented experience that is nearly a century in the making," said Michael Bayley, the line's President and CEO.
Why This Is A Big Deal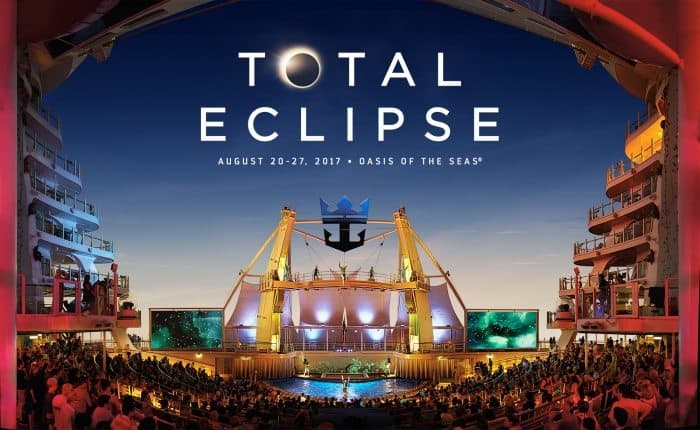 "A total solar eclipse hasn't crossed the entire United States since 1918," explained Bayley, "and with many of our ships sailing the Caribbean along the projected path, the stars aligned. Oasis of the Seas will have the vantage point of the century and an unforgettable celebration out at sea that adventurers won't want to miss."
As the exec mentioned, Royal Caribbean will have several ships in prime positions for the main event, including Allure of the Seas, Anthem of the Seas, Empress of the Seas, Enchantment of the Seas, Grandeur of the Seas, Harmony of the Seas and Majesty of the Seas. But it is aboard Oasis that the big Total Eclipse party will be taking place.
A Special Guest Will Perform
Royal is planning a whole slew of eclipse-themed activities for this special sailing, including science-based fun for kids and some creatively named cocktails. After all, who doesn't want to be sipping on a Cosmic Cosmo or Planetary Punch while awaiting the big event? Plus, the actual viewing party itself will feature a live concert by a "major headliner." And while his or her identity won't be revealed until later this summer, we're going to make a bold prediction: Who better to feature on this particular cruise than Bonnie Tyler, whose "Total Elipse of the Heart" would make the perfect anthem for this event?
For more details on the Total Eclipse cruise — which will make stops in Phillipsbug, St. Maarten; Charlotte Amalie, St. Thomas; and Nassau in the Bahamas, click here.
Would you like to be on board for the Total Eclipse party? If Bonnie Tyler turns out not to be the "special guest performer," who do you think it might be?
photo: Royal Caribbean