Tropical Storm Earl is on its way through the Caribbean right now, and because of that a few cruise lines are altering their itineraries in that region.  The worst of the storm is in the western Caribbean, and it's positioned to push into the Yucatan Peninsula and Mexico.  According to NOAA, TS Earl is predicted to strengthen, and Mexico has issued a hurricane watch.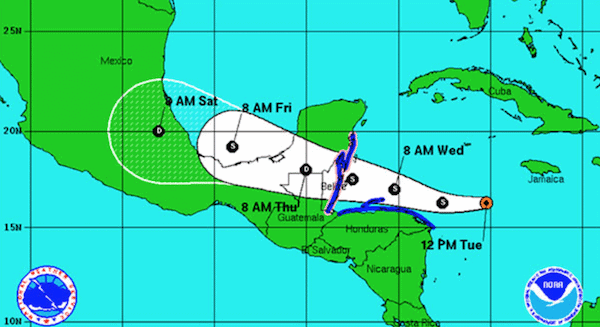 Here's what you need to know about the altered cruise itineraries:
Carnival
Carnival Glory is currently operating a seven day cruise from Miami. The ship was supposed to stop in Mahogany Bay, Belize, Cozumel, then a sea day before returning to Miami.  Instead, the itinerary has been changed to Cozumel, a sea day, Freeport, Nassau, then will return to Miami on August 6, as scheduled.
Carnival Magic is currently on a seven day voyage from Port Canaveral. She was supposed to hit Belize tomorrow, then Cozumel, a sea day, and back to Port Canaveral.  Instead, the ship will hit Cozumel tomorrow, then two sea days before returning to home port.
Carnival Paradise is on a five day cruise from Tampa. The schedule was to hit Grand Cayman, Cozumel, have a sea day, then return to Tampa.  Instead, Grand Cayman and Cozumel have swapped days. The last two days will continue as scheduled.
Royal Caribbean
Empress of the Seas is currently on a five night cruise from Miami. It's replaced Grand Cayman with stops in Nassau on Thursday, and CocoCay on Friday, cutting down the sea days from two to one.  Today the ship was in Key West.
Liberty of the Seas is currently on a seven night voyage from Galveston. They have cancelled both of its Roatan and Belize City stops.  The cruise now has four sea days instead of three, and was in Cozumel today, and will be in Nassau on Thursday.
Norwegian
According to CruiseCritic.com, Norwegian Escape canceled their Belize call.
TS Earl is expected to make landfall on Wednesday night and downgrade by Thursday morning.