As Hurricane Matthew pounds the Florida and Georgia coasts, cruise lines in South Florida are slowly picking up the pieces and trying to get back on schedule after a few days of disruptions.
While Port Miami and Everglades only received tropical storm force winds, Port Canaveral had winds of 107 m.p.h..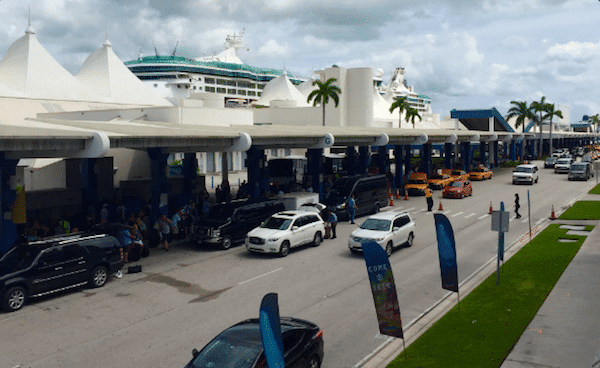 Port Miami is Now Open
Carnival Fantasy is returning to Miami on Friday to pick up guests for a modified three-day cruise to Nassau, pending a post-storm assessment by port officials. The original itinerary was Key West and Cozumel.
Carnival Sensation will be alongside Terminal D at 4:00pm. Check-in is now scheduled from 5:30 PM to 7:00 PM and will sail shortly thereafter.
Empress of Seas and Enchantment of the Seas will now begin on Friday, October 7 at 5 p.m. We ask that guests on these sailings not arrive to the port before 5 p.m. and encourage guests to monitor www.royalcaribbean.com for any additional updates.
Port Everglades is Open
Being a midweek storm, there was minimal impact on the Fort Lauderdale cruise port. Carnival Conquest is on a seven night sailing out of Port Everglades. The only itinerary change was skipping the Dominican Republic call.
Port Canaveral Remain Closed Friday, Opens Saturday
Carnival Victory remains at sea without guests until the port is safely opened.
Disney Dream has canceled their Oct. 7 sailing and is remaining safely at sea with guests onboard.
Royal Caribbean has cancelled Majesty of the Seas' Saturday, October 8, sailing. Guests will have the option to receive a full refund of the cruise fare paid or future cruise credit in the amount of 150% of the cruise fare paid.
Jacksonville Remains Closed
Once conditions become safe, port officials will begin their assessment and make a determination of when the port is safe to reopen. Carnival Elation is scheduled to return to Jacksonville on Saturday, October 8, but could be delayed.
Charleston, South Carolina Closed
At the time of publication, Charleston hasn't been impacted by the storm but the port remains closed and evacuated with anticipation of the storm. Carnival Ecstasy will remain at sea an extra day and is scheduled to return on Sunday, October 9.
According to the National Hurricane Center, Hurricane Matthew is expect to brush the coast of Florida, Georgia, and South Carolina before looping back around and heading south again.