The Central American country of Honduras has reported a large increase in the number of cruise ships stopping there in 2016 vs the previous year.  New vessels calling at Honduran ports this season include Azamara's Azamara Quest, Swan Hellenic Cruises' Minerva, and TUI Cruises' Mean Schiff 4.
With the recent addition of these three lines, 18 different cruise ship companies now stop in Honduran ports of call, including: Carnival Cruises, Norwegian Cruise Line, Royal Caribbean International, Princess Cruises, Costa Cruises, Holland American Line, Thomson Cruises, Oceania Cruises, Tui Cruises, MSC Cruises, Regent Seven Seas Cruises, P&O Cruises, Silver Sea, Noble Caledonia, Swan Hellenic Cruises, Azamara Cruises, Hapag-Lloyd Cruises and Sea Cloud Cruises.
In 2016, 1,052,738 cruise passengers docked in Honduras, up 14.7 percent from 2015.
Roatán, Honduras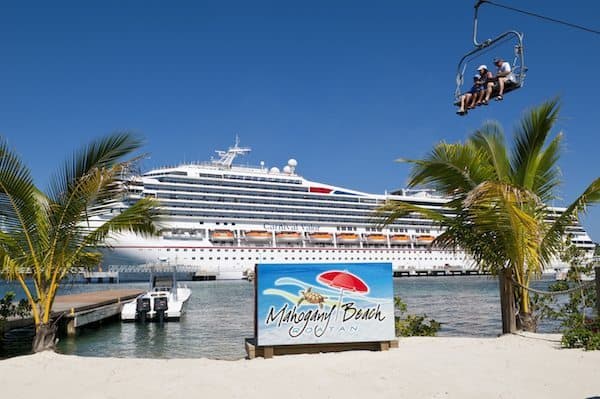 Most cruises visiting Honduras call on the Caribbean island of Roatán, around 30 miles north of the mainland.  Roatán is known for its white sand beaches, beautiful bays, and proximity to the Mesoamerican Barrier Reef – the second largest coral reef in the world.  This year, West Bay Beach received the Traveler's Choice Trip Advisor award for best beach in Central America, and one of the 25 best beaches in the world.
Since the remodeling of the island's main port (Coxen Hole) in 2008, and building Port Mahogany Bay (Dixon Cove) in 2010, more cruise lines sailing to the western Caribbean have added Honduras to their itineraries.  While on the island, visitors can explore the Carambola Botanical Gardens at Sandy Bay, the Gumbalimba Conservation Park, or the quiet islands near Maya Key and Little French Key.
Trujillo, Honduras
In 2014, Trujillo became the first continental port in the country to receive cruise passengers.  Last year, five ships visited the port: Azamara Quest, Adonia, ms Veendam, Riviera, and Thomson Dream.  
Some shore excursions in Trujillo include tobogganing, tram rides through the colonial center and nature reserves, kayaking, and ATV tours.  Guests can also explore the culture of the Garifunas, descendants of African slaves who arrived in the area between the 17th and 18th centuries.
Puerto Cortés, Honduras
Puerto Cortés is locales in a natural bay on Honduras' Caribbean coast, and is not only the largest seaport in Central America, but the 36th largest in the world in terms of traffic volume.  As part of their tour of Puerto Cortés, many cruise passengers visit the San Fernando Fortress, one of the few surviving colonial fortresses in the Americas, located in the nearby city of Omoa.
The Pacific Coast
Soon, cruise guests looking for new ports to explore will be able to visit Honduras' west coast.  In 2018, the country is hoping to open the Amapala cruise port on Isla de Tigre (Tiger Island).  Amapala's naturally deep channel will easily allow ships to dock, without requiring further dredging.
Watch Mahogany Bay, Honduras by Drone