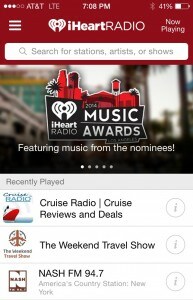 When you're surfing your favorite radio stations on Clear Channel Radio's iHeartRadio app., you can now tune into Cruise Radio.
Cruise Radio was recently added to iHeartRadio's Talk Network and can be streamed from any computer or mobile device.
Just one more way for listeners to find out and learn about Cruise Radio.
Since 2009, Cruise Radio has been delivering cruise related content to thousands of people weekly and just passed the 4.2-million download mark in January 2014.
I am so thankful for this opportunity and thank you so much for being apart of the journey. 
Best,
Doug Parker