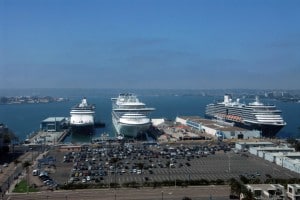 The city's downtown waterfront turned festive on Thursday, Sept. 29, 2011, as the Port of San Diego greeted three cruise ships, more than 6,300 passengers and a new cruise season.
In a brief ceremony and media event, representatives from the three ships – the Sapphire Princess, the Westerdam and the Statendam – were welcomed to the city by Port Commissioner Bob Nelson.
"It has been a while since we've had three ships in port, and we wanted to kick off the 2011-2012 cruise ship season by welcoming you and thanking you," Nelson said. "Your business means a lot to the region."
Nelson underscored the importance of the cruise industry to the region, saying that each homeported ship that docks at the port's B Street Cruise Ship Terminal or the Port Pavilion on Broadway Pier has an economic impact of $2 million for the region. Each visiting ship has a $1 million impact.
Two of the cruise ships in town today are homeported vessels. A homeported ship begins and ends its voyage in San Diego.
The Commissioner acknowledged that the cruise business has fallen by 60 percent since its peak in 2008, when there were 254 ships carrying more than 916,000 passengers.
"We expect 104 ships this year – as cruise companies add calls during he season – with 307,000 passengers," Nelson said. "If projections are right, the San Diego region could receive an economic impact of about $200 million."
A recent cruise market update prepared for the port cites a sluggish economy and a reduction in Mexico cruise business as the key factors in the decline in cruise calls to San Diego.
The update is being used to aid the port in developing a strategy for bringing more cruise ships to the city.
"The cruise industry will come back, and when it does, we will be prepared," Nelson said.
Source: Port of San Diego