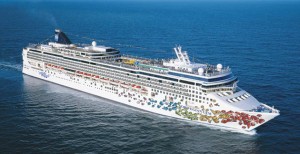 PORTSMOUTH, Va. — Watchstanders at the Coast Guard 5th District command center helped coordinate the rescue of five people 256 miles northeast of Bermuda with the assistance of the cruise ship Norwegian Gem, Saturday morning.
At approximately 7 a.m., watchstanders received notification from a member of the sailing vessel Sanctuary, stating that they had taken several large breaking waves over the bow, had lost power and were slowly taking on water.
A C-130 Hercules crew from Air Station Elizabeth City was launched to locate and assist.
The reporting source said that the crew all had life jackets on, but their life raft had washed overboard.
Using AMVER, the Automated Mutual-assistance Vessel Rescue system, the Coast Guard asked the captain of the Norwegian Gem to assist the sailors in distress.
The Norwegian Gem diverted course, was directed to the scene by the C-130 crew, and successfully rescued the five people from the Sanctuary.
Be sure to sign up for our daily news alerts here.
Source: USGC