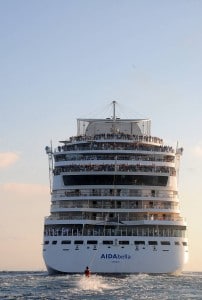 AIDAbella holds the current world record for pulling a water-ski rider. The dare devil stunt is black and white in the new "Guinness World Records" book documents.
The world record was successful in the fall of 2010 off the Spanish coast in the Bay of Alicante. Early in the morning, in bright sunshine and shallow seas, holding Schwiderek January, reporters of the TV show "Galileo" at the first attempt on his water skis. The 252 meter long AIDAbella pulled him with a speed of 14 knots behind it – and exactly 6 minutes and 25 seconds. No larger cruise ship managed this before.
This was accomplished by using a so-called "rolling start" to get pulled up by a speedboat while on the skis at full speed. The cruise passengers, who were thrilled by the spectacle of the outside decks with persecuted, and even Captain Josef Husmann AIDA. "This is something I've never seen a captain also. Simply amazing that we have really succeeded," said Husmann.
AIDA ships cater to the German-speaking market and are renowned for their youthful style and casual service.
Source: Aida Cruises