Celebrity Cruises has revealed another tidbit of their new upcoming cruise ship, Celebrity Edge. Designed by Wilson Butler Architects, The Meeting Place will be a 1,970 square foot state-of-the-art meeting venue with beautiful views. The possibilities for the space will be almost unlimited, with soundproof dividers, advanced audiovisual capabilities, a variety of seating layout options, private office space for event planners, dynamic mobile food and beverage bars, and a full-equipped pantry.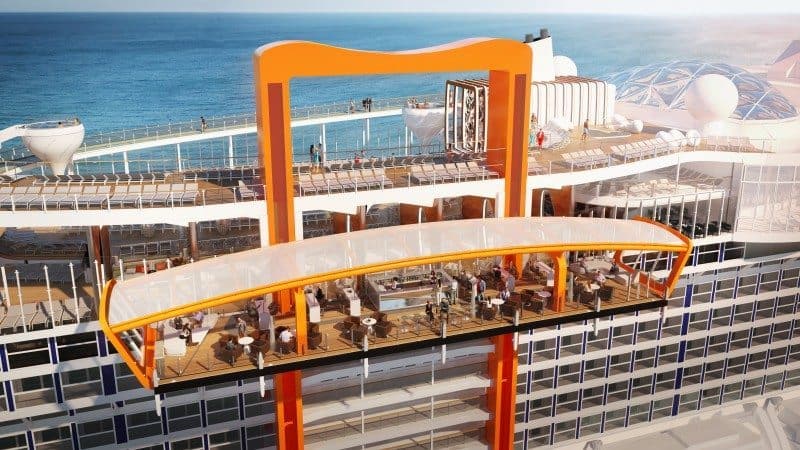 "When designing The Meeting Place we asked ourselves what would be more appealing; being subjected to lectures in a conference room, or socializing with colleagues in a hip lounge?' The latter seemed obvious. Thus the flexibility and functionality of a 'state of the art' meeting space was designed for pleasure first," said Scott Butler, AIA, Founding Partner, Wilson Butler Architects. "The word that defines The Meeting Place is 'connected'. It facilitates guests getting connected to one another; to the latest technology and to the greatest new ideas. It also happens to connect to other venues on the ship that vastly expand the opportunities for groups."
Seating is flexible; choose theater-style, classroom, U-shaped, or circular layouts.  Tabletops also work well with or without covers or skirts.  The space will transform easily from day into night, with high-top bar tables or comfortable lounge seating.  For the technical lovers among us, there will be wireless microphones, a mini sound board, electronic whiteboard, and 98 and 75-inch LED screens that can be used in a myriad of ways.  So, if you're looking for a cutting-edge cruise ship with top-notch facilities for an office getaway or private event, consider looking into the upcoming Celebrity Edge.
Celebrity Edge will homeport in Fort Lauderdale and make her inaugural sailing on December 2018.