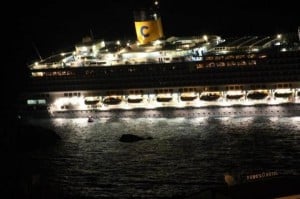 UK's Sky News is reporting that Italian-based Costa Cruises' 114,500-ton Costa Concordia has ran aground off the Tuscan coast after being underway for two hours.
A cruise passenger told Sky News:
"We were having dinner when all of a sudden the lights went out. It seemed as if the ship struck something and then we heard a loud bang and everything fell to the floor. The captain immediately came on the tanoy and said that there had been an electrical fault but it seemed very strange as the ship almost immediately began to list to one side. The glasses just slid off the table. We were then told to put on our life vests and head to the life boats just to be safe. Then a few minutes later there were seven whistles which meant everyone had to get in the lifeboats."
The 3,700-passenger Costa Cocordia was headed on a 7-night Mediterranean sailing from Civitavecchia (Rome).
Last Saturday, MSC Poesia ran aground off of Grand Bahamas Island.
More to come.