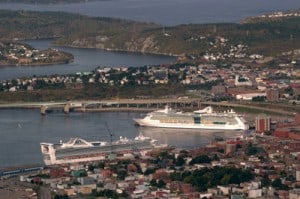 By Stephanie Lee of Host Agency Reviews.
So many cruise ships out there, so hard to keep track of.  There a lot of cruise ship tracker websites but one we found today we wanted to share, we especially like because it's in real-time.  I've been using the airline real-time tracking sites for a while, it's nice to have discovered (belatedly) a cruise ship tracker counterpart!
More than a Cruise Ship Tracker
This site doesn't just tell you where ships are, it gives you more information than you'd ever dreamed.  It's a marine vessel enthusiast's dream.
First thing to know, it's not only a cruise ship tracker, it tracks all ships.  To get only cruise ships,  select the "passenger vessels" and "ships underway" options to get only cruise ships (see above screenshot).
You can search the database by port, vessel, or area.  You can even make your own fleet (requires account creation).  How could this be helpful?  If you're a travel agent and only sell Carnival Cruises, you can create your own fleet of only Carnival ships and your tracking just got a lot easier.
How it Works
Any information you need on a cruise ship, MarineTraffic's site has it.  When you find your a ship that interests you, click on it and the info box below appears full of ship and route details.
Since this is a cruise ship tracker site, if you want to track the cruise ship's path, click on the "Show Vessel's Track" button and you'll see something like this:
Another great aspect of the site is there is actually user engagement.  Photos of the ship can be uploaded and rated by users.  I was pleasantly surprised to see 43 user-uploaded Carnival Breeze photos.
Plenty more to explore on this site, we just scratched the surface in this post.
Cruise Ship Tracking goes Mobile
Marine vessel fanatics, rejoice.  While you're sitting and waiting for the bus, you can now track ships around the world.
Android App Screenshots
Information on the world's ships is at your fingertips.   The best part is, this app has fabulous reviews.  For all platforms, it's 4+ stars.
Download MarineTraffic's Cruise Ship Tracker:
Google Play (free)
iTunes (free)
iTunes Paid ($3.99)
Who Created This, Anyhow?
You can find the original map at MarineTraffic.com but the more in-depth story is that it comes from some lovely folks over at the Department of Product and Systems Design Engineering, University of the Aegean, Greece.