Crystal Cruises has revealed the latest designs for their very first aircraft – a Boeing 777-200LR as part of the company's Crystal AirCruises experience.
In autumn 2017, Crystal AirCruises' very first jet will hit the skies, transporting a mere 84 guests to some of the world's most exotic and remote locales in first class accommodations.  The trips will be 14, 21, and 28 days in length.  The 777 is currently being transformed to meet Crystal's standards, and will boast reclining seats, social spaces, large TVs, butler and concierge services, and Michelin Star-inspired cuisine.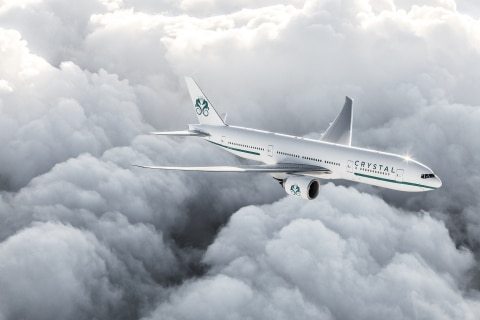 Details
The jet is being furnished with features that are most commonly seen in luxury suites.  The seats will fully recline to lie-flat beds, and a large social lounge will include a stand-up bar and four dining tables for guests to make friends easily.  Food will be prepared by an executive chef in two state-of-the-art galleys and paired with a premium wine list.
Guests will also enjoy noise cancelling headphones, iPads, complimentary wifi, interactive flat-screen TVs with on-demand programming, individual USB ports and outlets, and a live cockpit-to-grounds listening channel to keep up to date with what's happening during the trip.  Blankets, pillows, duvets, and mattress toppers will also be available, along with spacious lavatories offering even more than most people's home bathrooms would.
Edie Rodriguez, CEO and president of Crystal said "Even the savviest travelers and guests who have sailed on our award-winning ocean cruises many times will relish brand new opportunities to explore places impossible to reach by water, all with Crystal's signature personalized service and the highest standard of luxury at every point of travel."
How's that for traveling with style?