Crystal's Fast-Track Embarkation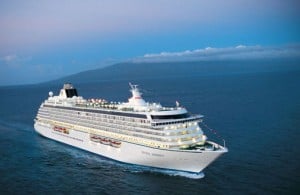 LOS ANGELES, January 18, 2012 – Crystal Cruises, known for its ultra-hands-on service, announces a first-of-its kind check-in process that eases embarkation procedures for all guests.  Effective today in every Crystal embarkation port, "Crystal Fast-Track Check-In" eliminates 100% of ship check-in procedures in port terminal waiting areas, transitioning guests from dock security to the Six-Star comfort of Crystal Symphony and Crystal Serenity lounges.
By utilizing a new barcode on each guest cruise ticket, a new ticket scanning system and the consistency of Crystal's own onboard crew, the cruise line is accelerating the check-in required on the first day of sailing. As is customary, in each embarkation port, porters load guests' luggage onto the ship, and guests observe required local security procedures as they enter port terminals.  However, instead of processing documentation in the terminal, guests are whisked through and ushered on board to complete registration and receive their room keys/boarding cards with photo identification.
"Travelers want to start their vacations as soon as possible," says Thomas Mazloum, Crystal's senior vice president, operations.  "By enhancing the ease, comfort and speed of embarkation day logistics, our guests get instant access to the ship and can enjoy the luxury of the Crystal Experience all the sooner."
Credit: Crystal Cruises