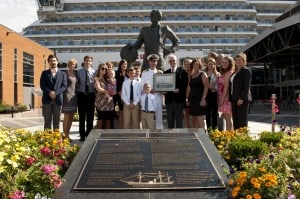 Last week when Queen Elizabeth made its inaugural call into Halifax, there was also a ceremony dedicated to company founder Samuel Cunard, who hails from the city. In Halifax, they re-dedicated a statue of Mr. Cunard during the port call.
Captain Christopher Wells, master of Queen Elizabeth, and members of the ship's company joined the re-dedication ceremony on the
waterfront. In his remarks Wells said, "The city of Halifax holds unique significance to Cunard Line, and we are proud to join Samuel Cunard's descendants as we celebrate this special occasion.  It is truly gratifying to see this majestic symbol of Samuel Cunard's legacy take such a prominent position on the waterfront; it stands as a beacon to visitors from all over the globe, which is fitting since Samuel Cunard made far-reaching travel possible for untold millions."
"Cunard history and heritage is widespread as one might expect after 171 years, and counting. It was here that founder Samuel Cunard
was born, later establishing a company which has no equal in the annals of ocean liner history. Today in Halifax was a great day for celebrating the man and his legacy," said John Langley, who is considered to be the foremost expert on the life of Samuel Cunard and who authored his biography, "Steam Lion."
"We're honoured to be included as one of Queen Elizabeth's calls in her first year of operation," said Cathy McGrail, manager of Cruise
Development at the Halifax Port Authority. She added, "we're delighted to have Captain Wells and crew join the re-dedication of the Samuel Cunard statue, which has become a signature attraction to our port."
Prior to her maiden call to Halifax, Queen Elizabeth made her inaugural visit to Boston, before continuing up the eastern seaboard through Maine. She completes her maiden New England & Canadian Adventure voyage with a maiden call to Québec City, Quebec and Cornerbrook, Newfoundland before returning to Southampton, England.