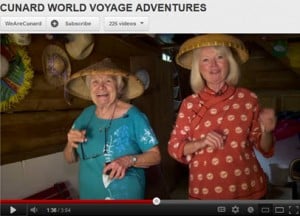 With its 2014 World Voyage Season currently on sale, Cunard Line today released the second video in its new video series highlighting some of its most avid World Voyage passengers.  In this second video, Michigan residents Richard and Pat Donahey (Belleville) and Dr. Martin and Linda Weissman (Birmingham), and Maryland residents Peggy and Pamela Zirkle (Berwyn Heights) share some of their favourite World Voyage memories and unique souvenirs.
Throughout the video, guests highlight stories from various destinations and World Voyage excursions ranging from exploring King Tutankhamun's Tomb and the Egyptian Pyramids, to golfing some of the world's best courses, and the new friends made along the way. The passengers unanimously express their awe at the many diverse attractions they have visited.
Linda Weissman speaks enthusiastically about the daring adventures she and her husband, Dr. Martin Weissman, have taken part in while "living [their] bucket list," including riding camels at the Egyptian Pyramids, elephants in Thailand and ATVs in Africa.  Travellers Peggy and Pamela Zirkle share a glimpse of their exotic hat collection from each place they have traveled to, including Vietnam.  Richard Donahey recounts his sheer amazement when he and Pat experienced The Great Wall of China.
"Since our first World Voyage in 1922, Cunard has combined legendary service with the world's most sought-after destinations," said Peter Shanks, president of Cunard Line.  "These devoted World Voyage guests are 'living out their bucket lists' on board a Cunard liner.  We welcome others to take part in this unique travel experience."
Cunard's 2014 World Voyage Season will cover more than 116,000 nautical miles across six continents, with visits to 85 unique ports of call in 40 countries.  The programme features three World Voyages ranging from eight to 133 days aboard Queen Mary 2, Queen Victoria and Queen Elizabeth, with embarkation points in Southampton, England, New York, Fort Lauderdale and San Francisco.
Guests sailing a luxury cruise vacation aboard Cunard Line delight in the experience of the voyage itself, not just the destination.  By day, guests enjoy voluminous libraries, world class spas, white-glove afternoon tea service, and engaging award-winning Cunard Insights guest enrichment programmes; by night they are entertained by Royal Nights themed balls, West End-style productions and Veuve Clicquot champagne cocktails.
To view the complete 2014 World Voyage schedule, visit https://www.cunard.com/destinations/world-cruises/.
Source: Cunard
Subscribe to our Cruise News Updates.