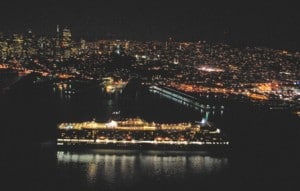 Cunard's 2,092-passenger Queen Elizabeth made her only U.S. stop for the year in San Francisco, CA on Saturday, coming from Cabo.
"The Port of San Francisco is honored to welcome Queen Elizabeth to our waterfront, as we did for the other Cunard Line ships, Queen Mary 2 in 2007 and Queen Victoria in 2010," said San Francisco Port Commission President Doreen Woo Ho.
From San Francisco, Queen Elizabeth continues on her 107-day World Cruise and will stop in Hawaii, cross the equator into American Samoa, then cruise the South Pacific to Fiji, New Zealand and Australia.  She will then sail the South China Sea to Hong Kong, Vietnam, Malaysia, Thailand and India, before crossing the Arabian Sea to stop in the United Arab Emirates and Egypt before heading back to Southampton, making stops in Greece, Italy, Monaco and Portugal along the way.
Subscribe to our Cruise News Updates.