Cunard has announced the designs for all of its staterooms and suites aboard its newest upcoming ship, Queen Anne.
The line's 249th ship overall — and the fourth in its current fleet — is scheduled to launch in early 2024. Its maiden season itineraries will be announced on May 4.
The arrival of another ship to the fleet will provide Cunard with the opportunity to increase its number of voyages in Alaska, Australia, and Japan.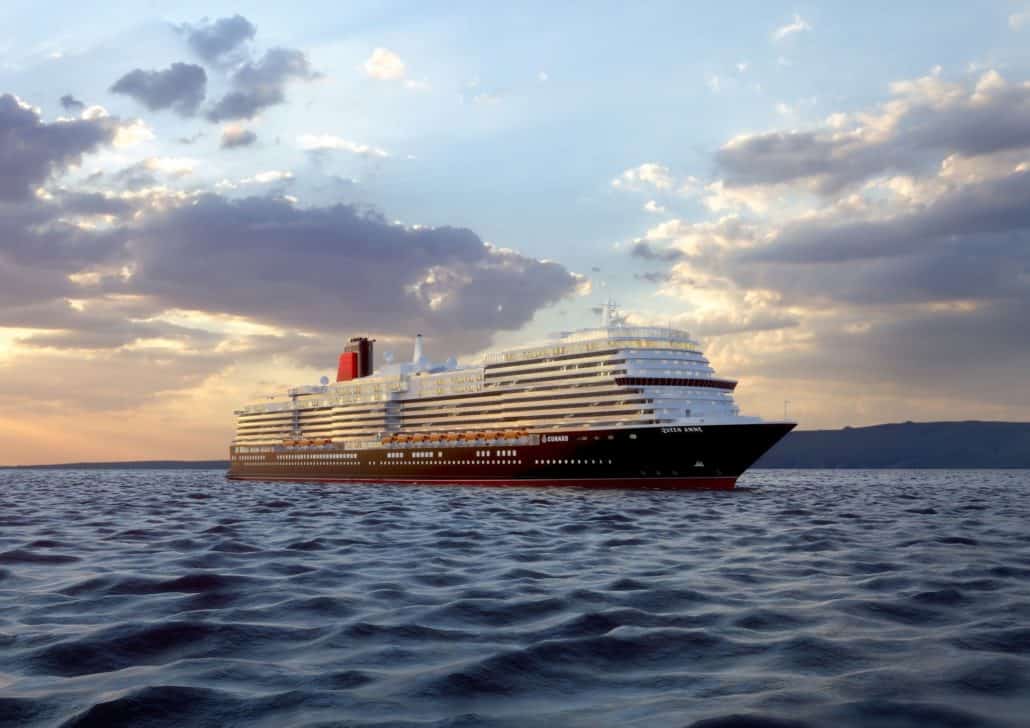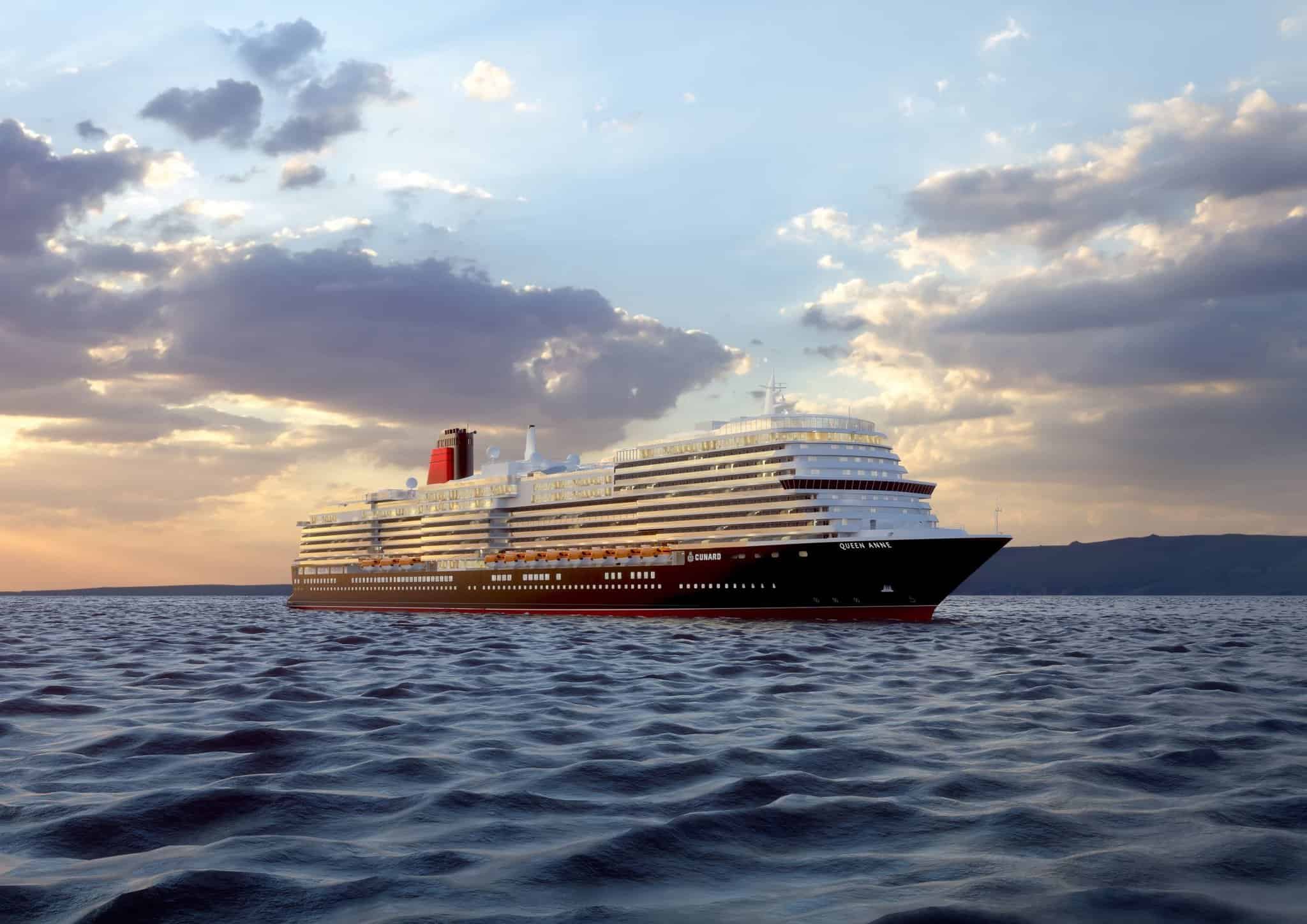 Queen Anne will bridge tradition and contemporary design, celebrating the styles of both past and present. World-renowned designers David Collins Studio, Richmond International, and Sybille De Margerie have joined forces under Creative Director Adam Tihany's leadership to create a thoughtful, extraordinary design.
The principle concept of Queen Anne's design was founded on these five pillars: heritage, craftsmanship, storytelling, style, and innovation. The design teams spent time in Liverpool to immerse themselves in the Cunard Archives and unearth details from past Cunard ships to take inspiration from for Queen Anne.
Each stateroom category aboard the ship has a distinct design direction and inspiration.
Britannia Cabins
Britannia staterooms comprise the majority of accommodations onboard, and celebrate the deep blue of the ocean with flashes of gold to reflect the sunshine.
Cabins feature 3D paper cut deco frames celebrating deco patterns from Cunard's history. Wall coverings feature a print pattern that takes inspiration from the Cunard crest and laurel with still life photography of historical Cunard objects in a bold, colorful presentation.
MORE: Why We Cruise: This Passenger's Reason Will Touch Your Heart
Suites
Princess Grill suites are enveloped in Cunard red and gold tones and warm wooden furnishings.
Queens Grill suites have a bold art deco design using luxurious materials in deep shades of purple and wood.
Grand and Master Suites are designed as luxe residences in subtle shades of green, purple, taupe, and gray, framed with wood and marble highlights.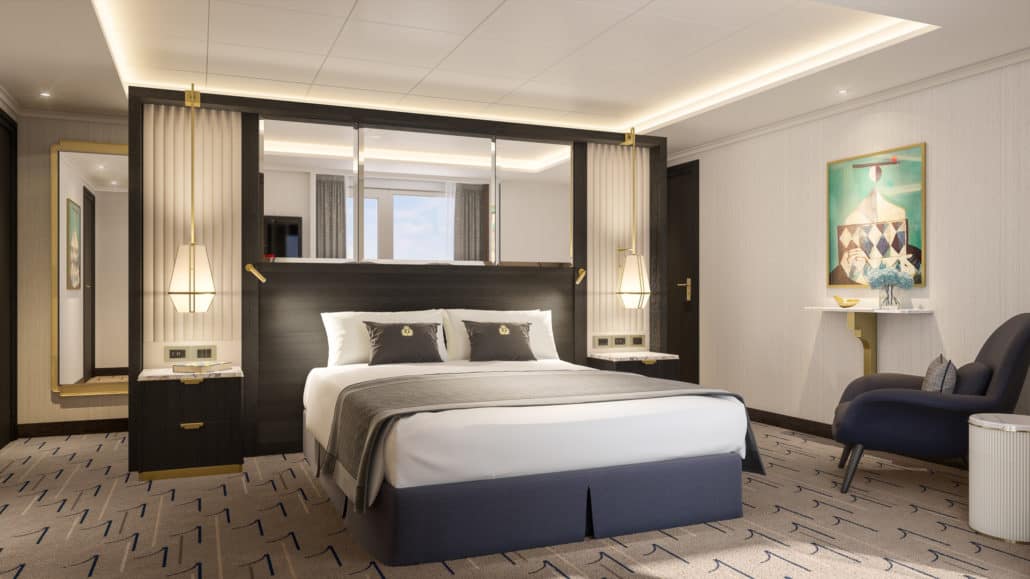 Each of the top six suites have been named after an iconic waterway that was important to Cunard throughout its history, including Mersey, Solent, Boston, Hudson, Halifax, and Clyde.
The bathrooms will feature a black and white photo series documenting the construction of Queen Anne, created by world-renowned photographer Michael Mann.
The Grand Lobby
The Grand Lobby is the focal point where the new Cunard deco design anchors itself and echoes throughout each space on the ship.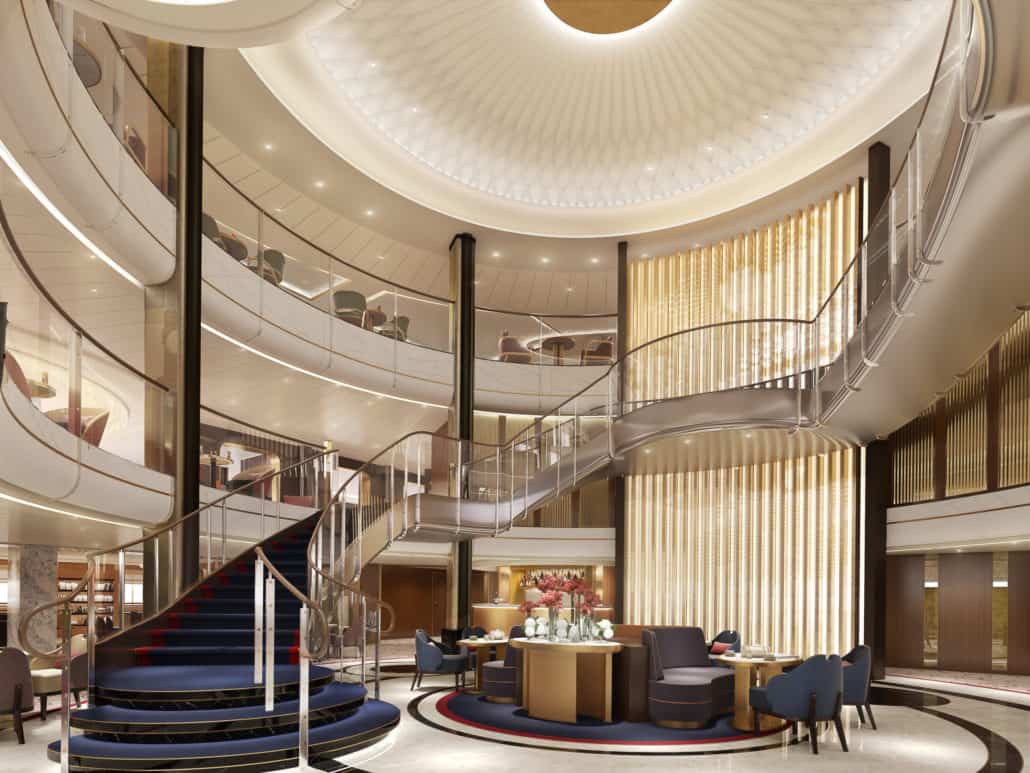 Overall, the design of Queen Anne is an evolution from the rest of the fleet, and will be a contemporary interpretation of Cunard's design.
The cruise line is continuing its heritage of honoring the names of each Queen Regnant over the last millennium: Mary, Victoria, Elizabeth, and now, Queen Anne.
READ NEXT: After 9 Years, Carnival Corp. CEO Will Step Down