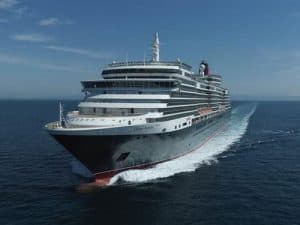 October 19, 2011 – Cunard Line, one of the oldest names in passenger shipping operating the youngest fleet at sea, will offer its guests the opportunity to be married on board for the first time in its 171-year history. Beginning Spring 2012, a luxury cruise aboard Queen Mary 2, Queen Victoria and Queen Elizabeth will offer a selection of wedding packages, commencing after the World Voyages have been completed. The Weddings programme will go on sale in December 2011, with expanded details available soon.
"Most of our competitors have been offering increasingly popular and lucrative 'Weddings at Sea' programmes, and these are now very big business in the cruise industry," said Peter Shanks, president of Cunard Line. "We receive a lot of enquiries about the possibility of being married on one of our ships – particularly during our regularly scheduled Transatlantic Crossings on our flagship Queen Mary 2, which no other company can offer."
On a luxury cruise vacation aboard Cunard's Queen Mary 2, guests revel in the experience of the voyage itself, not just the destination – enjoying activities such as the only planetarium and largest library at sea, white-gloved afternoon tea service, the engaging Cunard Insights enrichment programme and West End-style productions, as well as the first Canyon Ranch SpaClub at sea.
Source: Cunard Line