Cunard has announced that they're a sponsor of the 2017 Westminster Kennel Club Dog Show, which will take place in New York City from February 11 to 14.  This is the first year Cunard is part of the show, and will be the only travel company represented there.  Also, the 2017 Best in Show winner and owner will be offered an invitation to sail a Transatlantic Crossing aboard Queen Mary 2.
Owners and dogs who stop by Cunard's booth at Pier 94 will get a glimpse into life aboard Queen Mary 2.  Cunard bellmen will be around to greet pups with specially-made dog treats and canine apparel, and one of the city's top Instagram dogs @WallytheWelshCorgi will make a special appearance to take photos with attendees.  Wally is attending Westminster Week as a member of the Pembroke Welsh Corgi Club of America, an organization that promotes the responsible breeding of Pembroke Welsh Corgis.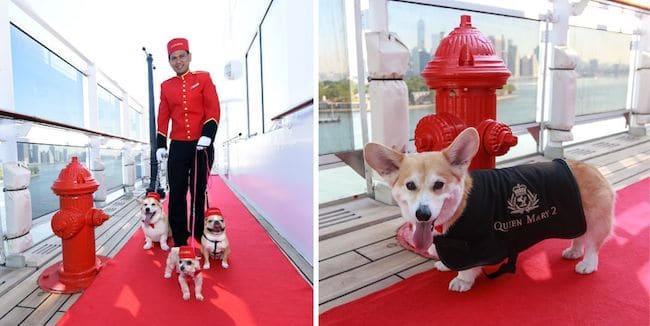 As the only cruise line to offer dogs and cats passage on the transatlantic crossings, Cunard has a long history of sailing pets – the policy dates back 176 years to the maiden voyage of the Britannia in 1840.  The cruise company recently doubled the size of their kennels on Queen Mary 2, and also added an owner's lounge and new pet playground.  An extended outdoor area for dog walking features a lamppost from Liverpool and a fire hydrant from New York so dogs from both sides of the pond will feel at home.