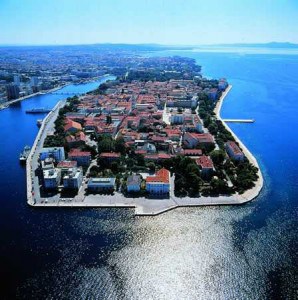 If you haven't chosen your summer vacations yet, here is an insider tip: the Dalmatian coast in increasingly popular south European destination of Croatia.
You have probably heard of Dubrovnik by now – that growing tourist hot spot at the very southern tip of Croatia popular with Europe cruises and quite a few celebrity guests as well (Bayoncé, Michael Douglas and Catherine Zeta Jones, Bill Gates, Goldie Hawn and Kurt Russell, Roman Abramovich, to name a few). It is beautiful, it is magnificently old and historic and it is a fabulous stop on your cruise around the Mediterranean. However, why not venture a bit further up north. There you will find the rest of what is known as Dalmatia, a historical region of south eastern Croatia and one of the most loved holiday regions on that side of the Adriatic Sea.
There is so much to do in Dalmatia that it is hard to know where to start from; beautiful beaches and some of the cleanest sea waters in the Mediterranean, historical and cosmopolitan coastal cities, the freshest sea food you can imagine and various party resorts, if you like to strut your stuff on the dance floor. In short, Dalmatia has something for everyone. The best place to start would probably be Split – commonly known as the capital city of the Dalmatia region. Easily accessible from most European airports, this historical coastal town, once ruled by the Republic of Venice, is a melting pot of history, magnificent architecture (check out the glorious Diocletian's Palace, for instance, built by the Roman Emperor Diocletian at the turn of the fourth century AD), cosmopolitanism and thriving café culture, amazing restaurants and vibrant night life during the busy summer months.
Split is also a main port from which you can board ferries to many nearby Dalmatian islands; Korcula, Hvar, Brac, Vis – to name a few of the biggest and most popular ones. From Split you can venture into and explore numerous small town resorts along the coast, all very well connected by the newly built A1 motorway that goes from Split to the country's capital Zagreb in north western Croatia. A little to the north from Split is Makarska Riviera – possibly the most famous of all rivieras in Croatia. Sunny climate and pebble beaches make Makarska Riviera and this stretch of Dalmatian coastline particularly attractive. During the summer months, Dalmatia lives to the fullest with each town and resort offering something new and unique to its tourists.
From magnificent architecture, open air theatre productions, street summer carnivals to world-famous DJ-s spinning the records during all night beach parties (check out Zrce on the Island of Pag – most recently referred to as Croatian Ibiza), Dalmatia is bound to have something for your ideal holiday.
Subscribe to our Cruise News Updates.