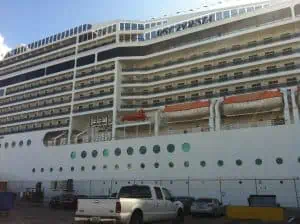 I started my day in Port Everglades at the Ramada Airport/Cruise Port hotel, which provides parking with a stay there (nominal fee) . The MSC Poesia doesn't pull out of port until 7pm so I opted for the 12:15 shuttle. Anytime I cruise out of a port other than Jacksonville, I do the stay and park packages (less stress).
The cruise I'm sailing solo so I'll be sure to update exactly how I'm adapting to it.
We got to the cruise port around 12:45 and checked my bag pier side and made my way through embarkation. Embarkation was about a 30-minute process. After filling out the health form, waiting in our seating area, to the embarkation process, we were on the ship around 1:15. I was able to go to my room right when we got on the ship. I'm on deck 10, balcony, port side, midship and right by the elevators, which I love! This ship has close to 80% balconies.
The room itself has a nice sitting area, balcony with tables and chairs, and pretty spacious. MSC Poesia has the key card switch when you walk into you room. You have to put your key-card in the slot in order for any of the power to work in the room (which reminds me, I left my phone charging in the room and I'm off the ship so I'm screwed).
Went to the buffet to check out the food situation and had to sample a little of everything and it wasn't that bad. The cruise line gets a bad wrap for their food but I didn't have a problem. Thought the pizza was good, pasta, burgers, Tex Mex, and veggies were all great. We're on a European cruise line so they have to cater to 3,000 different taste buds and they're not all Americans.
I took a tour of the gym after lunch (a place I expect to spend a lot of time this week) and was impressed. The only thing I didn't like and I know it's knit picky like Cruise Critic but the scale was a bathroom scale. This 210 lb. guy is trying to lose weight, at least give me a good scale. I'm not a spa person but wowzers, the spa looks awesome!
We got to watch Holland America's Zuiderdam set sail before dinner and that was an awesome sight. Princess Cruises' Pacific Princess and Regent's Seven Seas Mariner were also in port with us.
The life boat drilled happened at 5:15p and it took right around 30-40 minutes. Understandably, they did do the drill in five different languages. Full disclosure here, I bailed on the life boat drill. I can hardly sit still for 5-minutes, so I took a shower to get ready for dinner. After being on as many cruises as I have over the years, I think I know what to do, plus I sailed her last year and went.
So for the first time ever, I did an early seating in the dining room and I won't lie, it felt a little rushed because of the next seating after ours. The concept of eating early, giving your food time to digest, and going to a show later resonated well with me.  The dining room, Il Palladio Ristorante, has an elegant look and feel to it. A lot of red in there. The food was good: I went with a smoked salmon app., Cobb salad, and ribeye for dinner, followed by a cheese plate. Not being a wine person, I went with a glass of their house white (much better than red IMHO).
The early sitting welcome aboard show was at 9p but I skipped it. I'm going to go tonight because I wanted to see what kind of entertainment they have. My guess they'll have a lot of visual acts because you can't do comedy in five different languages.
Tomorrow is formal night and Key West. One of my favorite ports. We used to go lobstering down there every year growing up. Just glad I'm able to drink there now!
Last year we taped a review LIVE aboard MSC Poesia which you can hear here.
Video: MSC Poesia leaving Port Everglades at 8:00 pm.