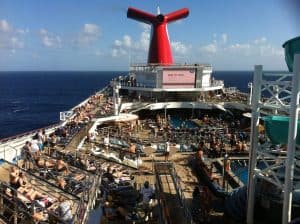 I'm not going to lie. I've sailed a lot and days at sea usually suck but this one didn't at all. I'm a firm believer that Fun Ship 2.0 is changing the way that entertainment is done on a ship for Carnival.
First thing in the morning we meet with the VP of Product Development for Carnival Cruise Lines to go over the Fun Ship 2.0 presentation. We basically got a top to bottom outlook of the $500-million dollar initiative and who they are partnering up with to make it all happen. After the presentation we got a tour of the ship and no question went unanswered. If you missed any part of the Fun Ship 2.0 recap be sure to listen to our episode of Cruise Radio we taped in NYC earlier this year when the program was announced.
After the tour we sat at the Blue Iguana Tequila Bar for about an hour and observed the crowd response. This was a sea day and there was still no crowding. The bars are proven to be a success. I did learn that only the RedFrog Rum Bar has their signature Thirsty Frog Red on draft out on Lido.
To keep with the theme, we had lunch at the Blue Iguana Cantina. There's two different lines: Taco or Burrito. I went with the shrimp burrito and it was awesome. They have two folks there making the burrito's so the wait in the line in minimal, maybe 5-minutes. After the burrito, I went and got a Guy's Burger from Guy's burger joint and got a plain jane burger.
After lunch I went around the ship checking out the public areas, the casino, walked through the disco, and down to the atrium.
Around 5p I met some folk at the RedFrog Rum Bar to check out the live acoustic music and it was great. Sitting on the deck with a beer, sun just about setting, and live acoustic music is a recipe for a great evening. Walked up to the front of the ship where the sun set and got to see that cool little green glow after it dipped into the ocean.
It was elegant evening and pretty much the whole ship participated. We did cocktails at one of the new Fun Ship 2.0 venues called the Alchemy Bar. This bar has a real South Beach flair to it. My drink was a Cucumber Sunrise which was fabulous. This was another place that was popular for pre-dinner cocktails. This is a venue I'm going to be going back to because you can make your own prescription drink. They give you a pad all of your drink options
Dinner was amazing as always. I couldn't decide what to eat so I did a little surf and turf. The prime rib and lobster both rocked. They did the "That's Amore" tune after dinner was over. The EA Sports bar was the next stop to check it all out and there was a great crowd watching the New Orleans game. This is the first EA Sports Bar anywhere and they crowds are loving it!
After dinner comedy was eh, okay. We went and checked out the adults-only show in hopes that it would be redeeming. Nothing bothers me more than when a comedian curses just to curse or steals other comedians material. This dude named Carl was guilty of stealing material.
Our first port of call this trip is Cozumel, Mexico. I signed up for Isla Passion by Twister.
A sneak peak at a Western Caribbean sunset. You can't really see my face because of the sun, sorry!