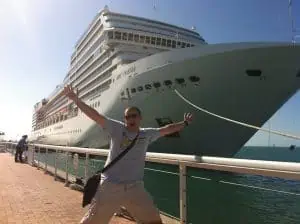 Today started out early because I wanted to watch the ship dock in Key West, so I woke up around 5:15. We docked at the pier right in front of the Westin Hotel. Key West has a fairly short port day, 7am-2pm.
Key West is one of my favorite ports because no one is hounding you to buy stuff, it's chill, and there's lots of places to get frozen calorie-induced drinks.
The gangway was opened at 7:30a and I was the second person off the ship. I knew what I had to do so I went straight to Sippin' coffee-house and internet cafe (Duval Street and Eaton). The cafe was a ten minute walk from the pier but at time of morning there was no activity on Duval Street so I didn't have many distractions.
Around noon I started to make my way back to the ship but had to stop at a place in Old Bahamas Village called Blue Heaven, known for their lobster melts and key lime pie. Afterwards I walked around some more. Key West is a place where I could just spend the day walking aimlessly through the streets.
We were in port with the Regent cruises' luxury ship Seven Seas Mariner and there was a lot of activity in the town. I couldn't imagine if there were three ships in port. The town is only so big. Getting back on the ship took about 10-minutes. When I got to my room I went to charge my phone and realized that I never picked my bag up at security check point. I've never flew down ten flights of steps so fast. Luckily everything was intact.
We pulled out of Key West just after 2p. The ship did a 180 degree turn in the shipping channel and went out to sea. Shockingly, I had AT&T service for an hour and a half after sailing, but only on deck 16. The pool area was packed at this time. There was still chairs to be had but they were few in far between. It was an awesome day out.
For lunch I had a slice of turkey and some pizza. I've read where guests complained about the food on this ship but I had none. The pizza, to me, tasted like the pizza did in Naples earlier this year when we were there on Carnival Magic.
Since I'm at early dinner I walked the ship and explored some of the venues and went to a wine seminar. The wine seminar was free and hosted by a Sommelier but there wasn't a tasting. They do have a tasting event for $27.
Tonight was formal night and I forgot to pack my sports jacket. When I was on Celebrity Solstice and forgot to bring my sports jacket, they wouldn't let me in the main dining room but this time I made it in!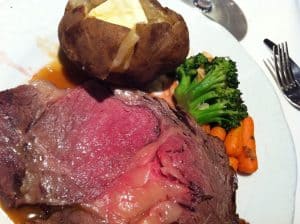 I went with the jumbo shrimp cocktail, turkey salad, prime rib, and a cheese plate. All were fab!  The dining service is a little bit slower and food doesn't come out rapid fire. I also noticed the water does have ice in it so you have to request it.
Oh, I breezed through the cocktail party where they were giving out wine, champagne, and punch. Capt. Romano was there shaking hands and doing photo ops.
After dinner they had a solo acoustic guitarist playing in the Zebra lounge and he wasn't all that bad. I went back to the room to work and purchased an internet package. The rooms don't have wifi but they're hardwired and you can get a cord at the front desk for a $15 deposit that's applied to your on-board spending account. For 500-minutes it was $70. I've never seen an internet package so cheap. Usually they go for $150 or so.
Tomorrow is Cozumel and we're there from 10a-6p. I will probably just go to the El Cid resort and do the day pass.
The distance to Cozumel from Key West is 375 nautical miles.
Video of us leaving the port of Key West:
If you haven't subscribed to our daily updates it's a great way to be informed into what's going on, you can do it here.