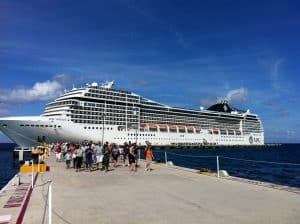 This morning was an early one for me but not by choice. Having the early seating dining has me going to be bed super early. I need to snap out of it! We arrived in Cozumel at 9:30a and cleared local authorities around 9:50a. All aboard is at 5:30p.
They have two departure decks on this ship: deck 5 & 6, both dump out into the main atrium area. Getting on and off this ship is really easy and I'm glad that there's no tender ports on this itinerary. Last year when I sailed this ship we went into Grand Cayman and had to use the lifeboats as tender boats. Probably more of a hassle than anything.
We docked at the Punta Langosta pier where there's the Fiesta Mall right when you walk off the ship. On previous sailings we'd always dock down at the International pier. The pier we were at made walking to places a lot easier.
One thing I noticed on this sailing is there aren't any port lecturers telling you where to shop. I'm not much of a port shopper but a lot of folks are and I over heard some people at dinner tonight talking about that. The only reasoning I had: with the cruise line only being seasonal in the North American market, there isn't a big demand or time to build a relationship with the stores in the ports. I could be way off base, I'm just taking a stab at it.
I hit Starbucks to take advantage of some free wifi and then ventured to lunch. A friend of mine told me about a place called La Choza, a local place that is well known in the area and it was only four blocks from the cruise terminal. It was $17 for Chicken fajitas, chicken soup, a local beer, and a bottled water. Their credit card terminal went down while I was eating there so I walked to the ATM and grabbed some cash. One thing about Cozumel is there's an ATM on every street corner in the main district (the service charge is 60 pesos which is only ~$3 USD. I had to explain that to someone earlier today).
I've never actually walked the stores and streets of Cozumel but I did today and found a bunch of homemade items that are unique to the area. Granted, a lot of people are trying to get you to buy stuff but they do actually have some good deals. If you're a t-shirt person, they have a bunch of shops that have four for $20.
Once back on the ship I went upstairs to check trivia out (back home I'm a huge trivia fan). The trivia was being done in two different languages and while I respect that, I didn't have the energy for it, so I walked up to deck 16 and listened to my iPod.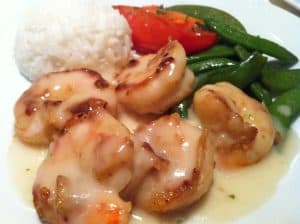 Dinner was themed Italian night. I had calamari for my app., a mozzarella salad dish, the main course was shrimp sauteed in garlic (pictured right), and finished the meal off with some vanilla gelato. The coffee definitely wasn't weak either and had a strong kick to it. My favorite!
They had "Movies under the stars" tonight on the maxi screen, this giant screen on the pool deck that a lot of cruise lines have now. The movie playing was "The Invention of Lying," with Ricky Gervais. After the first hour people start clearing out. It wasn't raining but misting pretty good and folks wanted no part of that. The did offer free popcorn with purchase of a drink.
They had an Italian buffet they started at 11:30 and it covered everything from garlic bread, meats, eggplant parm, to pizza. I had to get a slice of pizza.
Tomorrow is Roatan, Honduras, hard to believe I'm heading back there so soon. We arrive at 10a and depart at 5:30, like today.
Roatan, Honduras is 264 nautical miles from Cozumel.
Video of Italian night in the Main Dining Room:
Follow our daily Sea Blog by subscribing to our Daily Updates here.