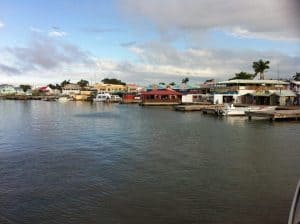 I've never been to Belize before and I always thought that I wasn't going to be missing anything. Turns out, I was wrong.
Our day started early because we had to tender to the port. The tender ride was about 20-minutes and takes you right into Belize City. Carnival really has the tender embarkation streamlined and you're not waiting long before you're on the tender boat.
I went with the Cave Tubing excursion and it was cool. I have an issue with long rides on buses so that was the worst part for me. It's like 1.5-hr ride there and back. There's a tour guide along the way so that made things a little easier.
When you get to the Cave Tubing location you're divided into groups of eight, given a safety briefing, and take a 25-minute walk to the cave site. The tubing itself was very cool and our guide who lead our group of eight was very informative.
After the excursion I came back for another burger at Guy's Burger Joint. I swear I'm going to have to be rolled off the ship. Have you seen the menu yet? It rocks!
There's a bunch of flat screen TV's at the burger joint where Guy Fieri is showing you how they're made and what goes into them. It's actually pretty cool.
The sail-away out of Belize was pretty uneventful because it was a tender port. The captain basically just spun the ship around and started heading out of the channel. I did learn that there's a precise way to leave the port because Belize is loaded with coral reefs.
It started raining so I went back to my cabin for some downtime.
After dinner we went to the Alchemy bar for after dinner drinks. That was my second time there and we went with a creation that someone in our group created. The concept of creating your own drink on a prescription pad is so cool. There's so many different ingredients you can add in there. The drink that was created was a sweet, almost French like drink topped with champagne.
The Mardi Gras party at 11:45 was pretty cool and it came right through the Promenade on deck and past the Alchemy Bar. It lead right into the back theater where Super Star Live karaoke was taking place. If you've never heard of the SuperStar live, you sing with a live band. My first time I experienced it was on Carnival Magic and I totally butchered the song.
Tomorrow is Mahogany Bay, Honduras. We have a packed day that's going to have us up around 6 am. Dah!
Eventually I'm going to have breakfast on the ship. Right now I have a bunch of banana's stocked piled in my room and having that for breakfast, along with drinking the water from my ice bucket — kidding.
Stay tuned.