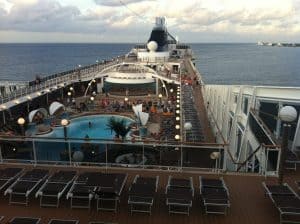 A day at sea is always fun because you get to sleep in and do things at your leisure. My day started at 9am to interview the Cruise Director and then have a one-on-one with the Hotel Manager.
Talking to the Hotel Manager was very interesting. He spent 20 years with Princess Cruises, a couple with Carnival Cruise Lines, and has been with MSC for about a year. They have the perfect guy for this ship – someone who has worked in the American market on a cruise ship. I also didn't realize that they hand-pick the staff for sailings in the Caribbean market to cater to Americans.
This line has had the damnest time adapting to the North American market over the years but I haven't had one complaint this cruise. Much better than last year.
After the interviews and chat I went out by the pool to check out the activities. They were doing the same charade type "guess that tune" game that they played last year when I sailed. Big crowd response.
I like to always try every meal in the main dining room so today I did lunch in there and it was impressive. I had chicken wings, salad, veal parm, and a cheese plate. All were very good. Some of the folks at the table ordered pasta, crab cakes, and a burger. Everyone was impressed. There is a group from CLIA (Cruise Line Industry Association) on-board and we were talking about sailings, it's so interesting talking to other people about cruises and what they love and hate about certain lines.
Hanukkah started today and they had Menorah lighting at 5p in the S32 disco. Kind of a weird place to have menorah lighting but it was cool of them to honor it. If you want to do early embarkation on the ship you have to fill out a form and turn it in before December 21, at noon. I always do self-assist when I sail so I signed up for it.
The photographers on this ship are pretty intense, I swear they're everywhere. When I was on the pool deck leaning against the railing they came and started shooting pictures of me. Bet cruise lines make a killing from those pictures. Some of the guests on this sailing aren't digging the casino but others are raving about the card tables.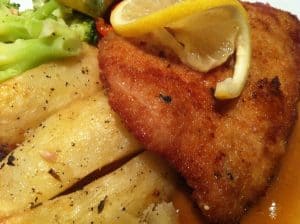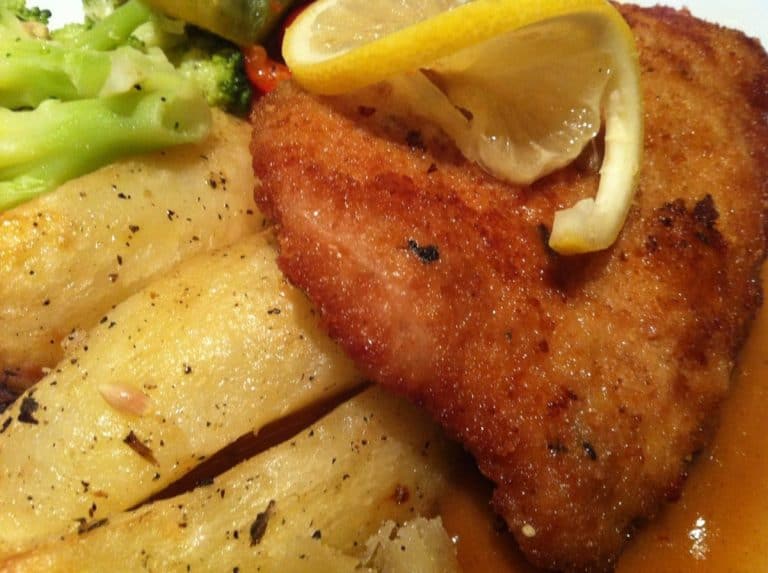 Dinner was informal night and I went with a finely sliced beef dish, ceaser salad, friend pork-chop, and the cheese plate for desert (I don't know why but I'm on this cheese kick lately). Our server is from Serbia and is pretty chill. He worked 10 years prior on river cruises in Europe.
The after dinner show was called Isha, a cirque meets dancing and add in some singing. It lasted for about 30 minutes. Most of the shows on this ship last 30 minutes. I like that because I do not have to sit still for so long. Again, their production value to these shows is amazing.
There was no midnight buffet tonight just some fried food served in a couple of the bars – I passed. They did have a Grease musical party in the Zebra lounge. The Zebra is this huge lounge on the ship that has depth and as wide as the ship, zebra stripes and all.
Tomorrow is Montego Bay, Jamaica, located on the north-west side of the island. It's 511 nautical miles from our last port of Roatan.
We had to put our watches back to eastern time this morning. I'm better off not even wearing my watch when I cruise!
Be sure to sign-up for our Daily Updates here.