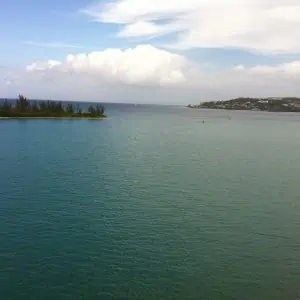 Today we arrived in Montego Bay, Jamaica around 6:45am. From my balcony I couldn't figure out how the Captain docked because the channel is so small but it looks like he backed her up aft first. Such precision!
We were allowed off the ship at 7:30. Montego Bay is a lot different than Ocho Rios. In Ocho Rios, the locals are basically right there at the pier hounding you. They aren't just trying to get you to buy their wares but will tell you they work on the ship and they need a couple dollars to go see their family and other lies. Montego Bay was very secure. In fact, when tour buses go in and out, the local authorities come on the bus and check everyone's ship card.
I didn't do any research on the port because I've never been and wanted to explore it by myself and play the day by ear. They have a Hot Spot Shuttle at the pier and for $15 you can hop on and off all day long between the shops, craft markets, bars, beaches, and restaurants. It was very safe and they had English speaking dispatchers at each stop to let you know how far away the next bus was and to answer your questions.
My first stop was the Rose Hall Shoppes, which is the furthest stop that the shuttle will take you (about 30-minutes from pier). I went to the Blue Mountain Coffee café there and walked around an hour. The shops seemed very pricey. This also was in a secured area and no one was begging you to buy anything. The next stop was the Hit-Strip (bars, dining, and beaches). I played it safe and went to Margaritaville, you can see the ship from the deck. They have a water park there and on the second story they have a big yellow twister slide that goes into the water as well as big inflatable trampolines and water toys. You can't go to Margaritaville without getting a Cheeseburger in Paradise and a local beer so that's what I went with.
All aboard was at 2p and a lot of people didn't make that. The ship stayed an extra hour to wait for guests to get on the ship. There was also an ambulance that came to the pier to bring someone to the ship. From what I could gather, they were on crutches and probably sprang their ankle on an excursion or something.
Dinner was great. It was lobster night, my favorite. They also had filet on the menu, I took mine together and made a surf-n-turf type meal, a lobster bisque, and cheese plate. They had a special desert which turned out to be baked Alaska. It was awesome. The display was nice too. You usually don't see cakes running around on fire these days but these were. Oh, speaking of fire, so last year they had a fire show by the pool. Juggling, jumping through hoops, and other things. I was talking to the Cruise Director earlier and for safety reasons they discontinued.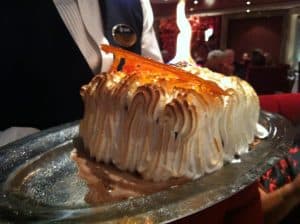 They had another "Movie Under the Stars' like they did a couple previous nights. Tonight's movie was "Leap Year," with Amy Adams. Great turn out for this movie, a lot better than the British comedy.
Afterwards was the midnight buffet with TONS of food. Their lido deck dining room is massive and every single area had enormous amounts food: finger foods, cheese, deserts, and fruits. They also had these massive ice and butter carvings with the artists next the respective piece.
I escaped with three pieces of cheese and left. I was still stuffed from dinner. They restarted the movie under the stars again and I watched like 15 minutes then came back to write this.
Tomorrow is a day at sea. I've been eying the gelato on deck 13 and I think I'm going to cave in and get some. I haven't really had any sweets this week so one little cup of gelato won't hurt!
Be sure to sign-up for our Daily Updates here.
Doug Parker/Cruise Radio