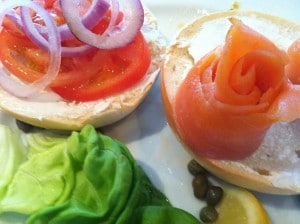 For the first time this cruise I was able to grab breakfast in the main dining room. Not being much of a breakfast person I went with salmon, cream cheese, and a bagel. To be honest, if it's past a banana, I usually won't eat breakfast. All were very good and the class of service at breakfast was just the same as you'd expect during the evening dining.
Since it was a day at sea there was a lot of deck games and contests on Lido deck throughout the day and that took us to noon (or beer-thirty). All cruise long we have been saying that we were going to grab one of those 101-ounce beer tubes from the RedFrog Rum Bar, so we did. They pour eight beers and have a nice spout on the bottom, perfect for just drinking out of the tube (kidding… kind of). Nothing goes hand-in-hand with a burger from Guy Fieri's Burger Joint and Carnival's signature draft beer, Thirsty Frog Red. They also had these beer tubes on
Carnival Magic
.
Carnival does the Groove for St. Jude on every sailing where for $10 you get a St. Jude's t-shirt and bracelet. 100% of the proceeds go straight to St. Jude's Children's Hospital in Memphis, Tennessee.
The EA Sports Bar had a lot of EA games going on today and a lot of challenges.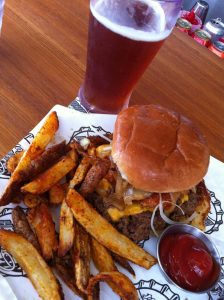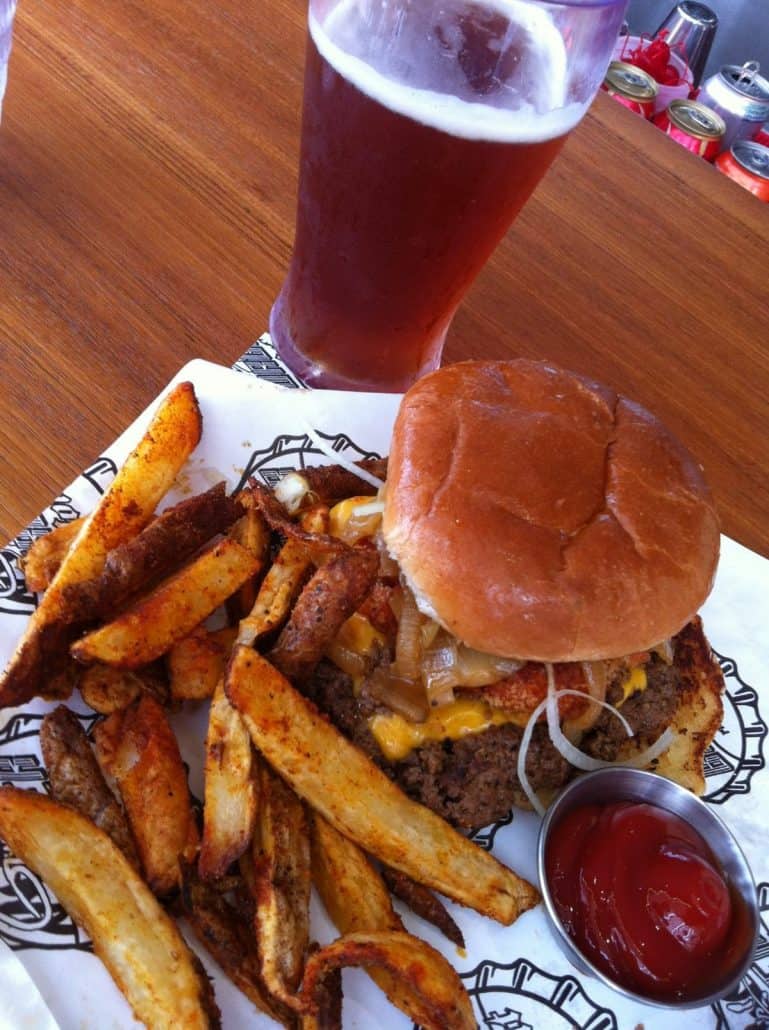 To be honest I ate way to much at lunch and crashed for a while. I had a couple of 4pm interviews scheduled with Butch, the Cruise Director and Junior, the Food and Beverage Manager. We went into the dining room and did the interviews and got a bunch of informative info. It's still hard to believe that on a sea day they are blowing through over 1,000 burgers at Guy's Burger Joint. Butch the Cruise Director does a two-hour fun TV morning show with his assistant Amy every morning.
I've never been a big shopper at the duty free shops but they had these $100 watches on sale for $20 and they actually looked nice.
One thing I didn't notice until the last day was the talented musicians that played at the RedFrog Rum Bar and Blue Iguana Tequila Bar also alternate and play in the atrium and it's the same genre's that they play outside. Thumbs up! Those dudes are so talented.
Our last dinner was great. They had bacon mac-n-cheese, and lets be honest, bacon is good on anything! I opted for the rare prime rib and mac-n-cheese for an app.
We did the late-night comedy after dinner and comedian Marvin Todd was funny. The comedians really started improving as the cruise went on. If you remember, the comedian first night was a rip of other comedians.
We did one last run at the Alchemy Bar after the late night comedy show and called it a night. All cruise long I've been meaning to go to the seaside theater to watch the movies under the stars but I always found something else to do. Last night they showed Forest Gump and tonight's movie was Iron Man and Iron Man 2.
One thing I didn't do on this cruise is eat at the Lido deck buffet. I did pizza late one night but never actually went to anything else. A lot of people don't know that on deck 10 in the Lido buffet area they serve fish and chips — I had some earlier this year and loved! I would have never known if it wasn't for John Heald.
Video of EA Sports Bar and here is the link to the menu:
Source: Doug Parker/Cruise Radio